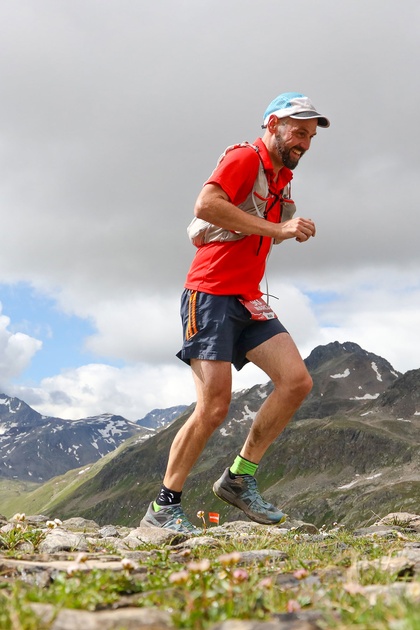 Alternative formats - Tailored to you
Foto: Swissalpine
From July on, events on a larger scale will be possible again. Until then, you can already test your form on real courses thanks to alternative race formats.
Corona has put a big spanner in the works of many organizers. And certainly you too! You would have loved to take part in your beloved race and compete with the others. Soon this will be possible again - even if with certain corona-related adjustments. But until then, you already have the opportunity to get a taste of competition. We present you different corona conform race formats, which you can tackle now or in the further course of the season.
Enduro Challenge
Long established in mountain biking, this exciting format is now to be used specifically in running events. The idea is that time is measured only on selected sections, while resting in between. The winner is whoever achieves the smallest sum of the individual section times. Unlike bike events, in an Enduro Challenge the time itself is stopped and uploaded to Strava. Datasport then calculates the overall and section times.
10.06.-10.06.2021 Bieler Lauftage Enduro Run
With the Biel Running Days Enduro Run, you can run on the 20-km loop from 10/06 to 10/07/2021. The virtual interval-like Enduro format is optimal preparation for the Biel Running Days and will keep you fit and in motion. You can register at 100km.ch where you will find all the details.
Route plan More info Registration
11.06.-11.07.2021 Swissalpine Enduro Run
On a total course of 18.4 kilometers, which is part of the K68, there are three segments between Monstein and Davos, which will be scored. Between these segments you can take it easy and have a break. The times of the three given segments will be added up and ranked as total time.
Route plan More info Registration
Fixed installations
Last year, Datasport was the first ever to implement fixed installations as a solution for an alternative race format as part of the Jungfrau Marathon Supporter Run. Other events followed month after month after that and are now widespread. In contrast to the Enduro Challenge, a predefined route is completed here like a "time trial" alone at a self-determined time. The time is measured as in "normal" races with the start number and ends up on the proven Datasport ranking list.
05.06.-31.08.21 - Jungfrau-Marathon Supporter Run
The proven alternative to the supposedly most beautiful marathon in the world will be used again this year. The course leads in the Jungfrau region from Lauterbrunnen to Kleine Scheidegg. Timing, luggage transport, drink at the finish, descent by train and the view of "Eiger, Mönch and Jungfrau" are included.
Route plan More info Registration
12.06.-27.06.2021 - EmmenLauf Challenge
In Bätterkinden the 10km original running course can be completed individually on the new dam. For children there's a 1km course. Those who register can start several times with the same start number!
Route plan More info Registration
03.07.-03.10.2021 - Echtes Lauferlebnis in der Aletsch Arena
Experience the Aletsch Half Marathon 2021 as an individual and real challenge. From July 3 to October 3, you can complete the well-signposted half marathon course on any day and still feel the communal experience thanks to the time measurement.
Route plan More info Registration
03.07.-18.07.2021 - Tour du Lac de Joux – Édition virtuelle
Come running or brisk walking on the wonderful paths along the lake over 12 or 24 km. Vouchers attached to your bib will give you even more of an opportunity to enjoy your stay or just passing through one of the prettiest regions in the country.
Route plan More info Registration
04.08.-12.09.2021 - Sierre-Zinal sur un mois
The legendary 35km course between Sierre and Zinal, which is commonly considered the "world championships" of all runner species, will be offered this year for the second time with individual start. Scenically fascinating, physically challenging.
Route plan More info Registration
21.08.-05.09.2021 - FHGR Trail Run Lenzerheide individual
With start and finish in the Roland Arena Lenzerheide, the attractive area around the Rothorn will be developed on fantastic trails. On Saturday 21 August 2021 as the main event or individually until 5 September 2021 with fixed timing.
Route plan More info Registration
This may be of interest for you too