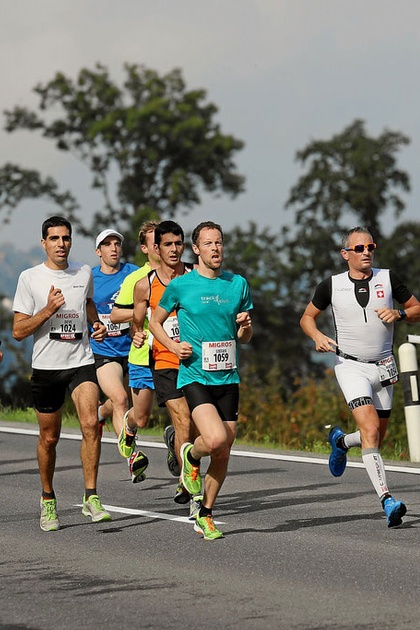 Here's how Switzerland ticks: interesting facts about the Swiss endurance scene
In 2019, Switzerland held 1,100 endurance sports competitions in which more than 850,000 competitive and amateur athletes participated. Learn more about the sports history, the Swiss endurance scene, and possible future models.
Would you have thought it possible that around 1,100 endurance sports competitions with over 850,000 competitive and amateur athletes were still held in Switzerland in 2019? That is to say, more than 20 competitions took place each week in different endurance disciplines. And that more than 10,000 participants in 13 competitions and over 1,000 participants in 151 competitions crossed the finishing line? In terms of the density and variety of events, Switzerland therefore ought to hold the absolute top position worldwide.
Mathias Brüschweiler, who is himself an enthusiastic endurance athlete and regular competitor, examined the emergence, development, and possible future of endurance sports competitions in Switzerland as part of his master's thesis at the University of Zurich and collected the above figures for the first time.
SWITZERLAND IS A TOP NATION
Together with Scandinavia, Switzerland is one of the sportiest countries in Europe and probably the world. 84% of the Swiss population regularly do sports. «Lifetime sports» such as hiking, cycling, swimming, skiing, and jogging have been at the top of the popularity ranking for many years now. The development of the individual endurance sports shows that some experienced a real boom (running, multi-sports, ski touring races, obstacle races), while others (military runs, inline skating) had to contend with existential problems. Other sports in turn experienced a fairly stable development (cycling, swimming, orienteering).
Brüschweiler pays particular attention to significant changes in the organisation and implementation of competitions over the years, with the «special year of 2020» showing that disruptive scenarios are not only conceivable, but that they have already become a reality as a result of the Covid-19 pandemic and the resulting creation of completely new competition formats. Virtual competitions are likely to become more important in future. This development could challenge the format of previous endurance sports competitions. On the other hand, e-elements could play a greater role in the future. The development in cycling with the first mass sports e-bike competitions, which are still somewhat playful in nature, could be groundbreaking here. Why shouldn't there be e-cross-country skis, e-inline skates or even e-shoes one day?
The thesis covers all the relevant aspects of «endurance sports competitions in Switzerland» in a thorough, informative, and entertaining way. If you want to read the entire thesis or just specific sections, you can access it with the following link. The thesis is highly recommended to all endurance sports enthusiasts.
Download the thesis in PDF format (in German)
If you are interested in the detailed analysis of the online survey on the development of endurance sports competitions in Switzerland, in which more than 200 organizers participated in late fall 2019, please contact us here.
Foto: ZVG
This may be of interest for you too