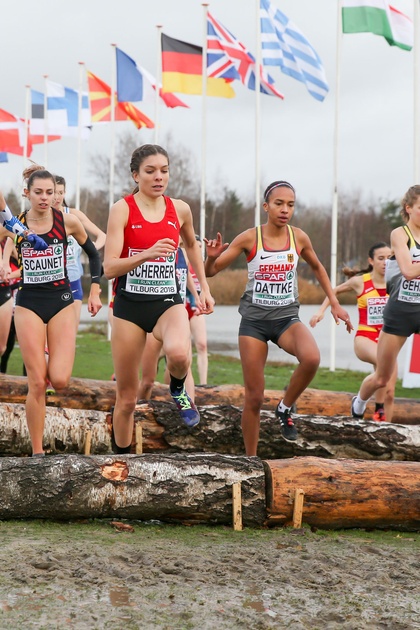 Interview with Chiara Scherrer
In the wake of Fabienne Schlumpf, Chiara Scherrer is emerging as a new Swiss running hopeful in the steeplechase. Last year, the 23-year-old qualified for the Junior European Championships for the first time and finished fourth at the U23 European Cross Country Championships in December after a spirited race.
Since you made the switch to Fabienne Schlumpf's coach, Michi Rüegg, your performance has sky-rocketed. In your opinion, which key parameters were changed to lead to this leap in performance?
I think the following three changes are responsible: firstly, I increased my scope and now run significantly more kilometres. I previously ran around 30 kilometres, but this has now been continuously increased to around 80 kilometres. I feel this improvement in capacity right in the race: I can keep up the racing pace for longer. Secondly, I began doing regular strength training on a weekly basis using my own body weight or light weights. And thirdly, I no longer do short sprints or reaction drills, but rather 150-200-metre coordination runs at a very high speed.
Your long-term goal is the 2020 Olympic Games in Tokyo. In which areas do you still need to develop and how do you specifically go about doing this?
The basics are there. I simply need to continue to develop myself at all levels and, above all, gain experience. The goal must be to find constancy and to run good times. I am convinced that if I carry on training in this way and continue along this path, all will be fine.
As an aspiring physiotherapist and athlete, in some situations you are able to wear different «hats». From a medical perspective, what three tips would you pass on to ambitious athletes? What three from an athlete's point of view?
My tips from a medical point of view:
Take a performance test two times a year to determine your aerobic and anaerobic threshold and then train in the right intensity zones.
Go a physiotherapist on a regular basis to prevent injuries and give your recovery and feet the necessary attention.
Feel free to replace one or the other unit with alternative training (for example, aqua jogging, cycling, or swimming).
My tips from an athlete's point of view:
Be open and honest with yourself and your coach when something hurts or if you feel tired. Because nothing will work without your health.
Plan your season wisely. This helps you stay focused and motivated when training.
Create a good environment by optimising what is possible and influenceable.
In your eyes, what are the most important factors that lead to success?
This is highly individual, and success is composed of a great many mosaic stones. However, it is crucial that you train on a regular basis and without any injuries, that you believe in yourself and what you are doing, and that you have fun and enjoy doing it.
Do you have a secret tip you would be willing to share with us?
Visualise what's possible and make sure that it comes true. I work a lot on my mental skills and have thus had extremely good experiences. For example, when I am in bed in the evening or on the way to the competition, I visualise exactly what is possible and, with the right attitude, create the basis for success.
Many thanks to Chiara Scherrer for the exciting answers.
This may be of interest for you too