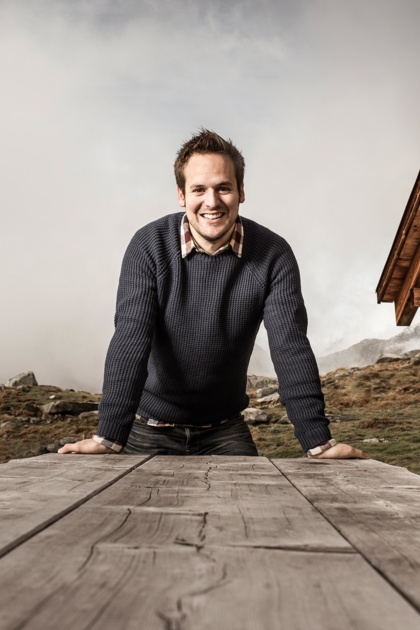 Interview with Daniel Albrecht
Daniel Albrecht's career was really taking off before it was curbed by a nasty crash in the final downhill training run at Kitzbühel where he sustained a traumatic brain injury. While the athlete from Valais impressively fought his way back to the slopes of the World Cup, the gravity of his injuries meant that he never really managed to make it back to the top.
You ended your career in October 2013. What does your life look like today? How much sport do you still do?
My life is very interesting, especially since the birth of my daughter. This is the chief reason why family life currently has such a high priority. I spend the most of my time working for my ski apparel brand Albright, and also work as a consultant and journalist on a regular basis.
The sport and training have somewhat taken a back seat. Thanks to our two dogs, I exercise at a certain level of intensity at least twice a day. I hope my daughter will discover the world of sport one day and that I will be allowed to accompany her. I still enjoy skiing, but only for fun.
What did your training look like as a ski racer? Can you give us an overview of how much time you spent skiing, weight lifting, and on endurance training, agility training, and recovery?
I spent 50 weeks of the year training. The season started with a 12-week block of intensive conditioning units in the areas of endurance, strength, coordination, and speed. This laid the foundation. In each case, I did 2-3 units a day, which amounted to a total of 25 hours per week. The goal was to get better in all areas. The difficulty lay in making sure my training in one area didn't make me worse in another. Strength, for example, has a negative impact on endurance and vice versa.
This intensive block was followed by ski training. I spent one unit training on the glacier early in the morning, and the afternoon was spent analysing the video and meeting with the service man. The challenge here lay in adjusting to the altitude and finding enough time to recover.
This was then followed by the races and the associated travelling.
You participated in the World Cup for many years. How has the sport developed? How have the requirements relating to training and equipment changed?
During my career, there were numerous changes to the rules which gave rise to new, adapted equipment. Each change involved an adjustment in training, because other physical abilities were required. For example: in the slalom, the skis were widened, and the courses were made narrower. This meant that you had less time to make the curves. The training technique had to focus much more on speed and speed-strength, and the tactics required an "attack" approach.
Over time, the equipment became more stable and smooth. This meant skiing actually became easier. But this new equipment also made higher speeds possible, which in turn made the whole thing more difficult.
I also find it exciting that much is still the same as it was during the times of Bernhard Russi and co. By this I mean that it mainly depends on the skier. Those who can cope well with forces, who can feel the snow and the power and are able to ride the energy, are fast. What's more, it takes courage, conviction, and self-confidence to make it to the top. These factors cannot be learned and are not dependent on the equipment. You either have them or you don't.
What tips do you have for all those wanting to successfully take part in a ski race this year (e.g. the Inferno Race)?
If you want to participate in a race, then you need to prepare yourselves in the areas of physical fitness, psyche, and equipment. It is worth building up your physical fitness as early as possible. Here I am referring to strength in the legs and back. This strength training should ideally be combined with balance exercises. And in order to maintain a high level of intensity throughout the entire distance, you need to spend weeks focusing on your endurance training.
You should get on your skis as soon as the snow comes. You not only need to practise your technique, but also get a feel for the speed of the race by skiing at similar speeds. By the way, technique training does not need high speeds.
I would like to mention self-confidence as another important factor. You should also be mentally prepared for the race, so you can stand at the starting line or in the start hut on day X and say with conviction, "Today. I'll beat them all".
Foto: ZVG
Many thanks to Daniel Albrecht for the interesting answers. You can find more information here: www.daniel-albrecht.ch
This may be of interest for you too