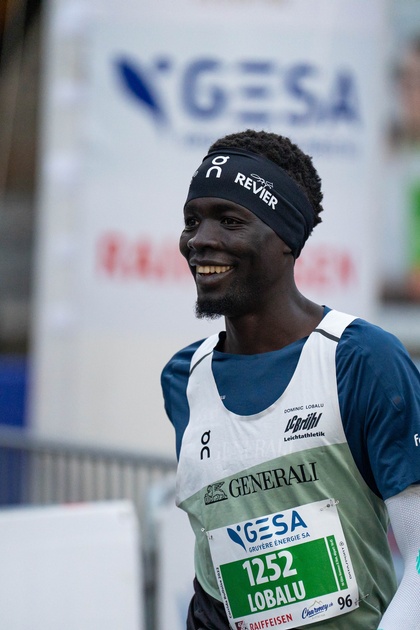 Interview with Dominic Lobalu & coach Markus Hagmann
After his victory at the Diamond League meeting in Stockholm, experts were amazed. Dominic Lobalu, who lives in Switzerland as a refugee, left the world's best in their field standing during the 3000 m with a time of 7:29.48. Markus Hagmann has never had a talent like Dominic Lobalu under his wing before. Now Lobalu is also making headway in Switzerland as the first leader of the Circuit de Courses, the western Swiss city run series with the Corrida Bulloise, Escalade de Genève and Course de Noël in Sion.
Your pathway to becoming a top runner was a rocky one. Can you tell us how you came to Switzerland and became a runner?
Dominic Lobalu: At the age of 9 I had to flee from South Sudan to Kenya as an orphan. I only started running at the age of 15 when I was at school. This led to my joining the IOC refugee team, where I trained until 2019 before applying for asylum in Switzerland after a race. I've been here ever since, pursuing my dream of being a top runner.
Can you tell us how Dominic ended up training with you?
Markus Hagmann: After making his way through various stations, he finally ended up at an integration centre in the canton of St. Gallen. I received a call from the supervisory employee that Dominic wanted to run. So a few days later, he took the 1 hour 45 minute journey by public transport to St. Gallen to train with me.
What does a typical training week for Dominic look like?
Dominic Lobalu: A typical training week comprises two intervals, a long run, two recovery runs and two strength training units. The fast units are my favourite. I still have to work on my strength. This was new to me.
Markus Hagmann: The scope amounts to 70 km on average, which astonishes many runners and also the experts. The system works for us, as shown by the performances achieved. I think Dominic enjoys the tough units the most. As soon as he has warmed up, he can accomplish tremendous achievements, which often surprise him and make him glow. The only thing he doesn't like is rain.
What are your 3 key training tips for amateur runners, so that 2023 will be a success?
Dominic Lobalu:
Set yourself a goal
Recovery
No excuses
Markus Hagmann:
A goal and a suitable plan to achieve it make training easier
Meet up with other runners, run on new routes
Treat yourself to a massage to recover
In your opinion, what are fundamentally the 2-3 key factors that lead to success?
Dominic Lobalu: As a runner, you need to enjoy training and train consistently. Also, you shouldn't forget about recovery.
Markus Hagmann: Running is like a bank account. Unless you make a deposit, you won't be able to withdraw on day X. However, you should always listen to your body. Training with pain is a no go.
Do you have an insider tip you would be willing to share with us?
Dominic Lobalu: I don't have an insider tip, but it helps me to eat protein after tough units and to sleep a lot. I'm also glad that my coach knows me well and prepares me for my goals with the right training.
Markus Hagmann: I've often seen how runners train a great deal but don't pay any attention to recovery. This cannot come to any good. Basic core-strengthening exercises and stretching are also important for a runner. If this is heeded, nothing should stand in the way of your goal.
Foto: zvg
This may be of interest for you too