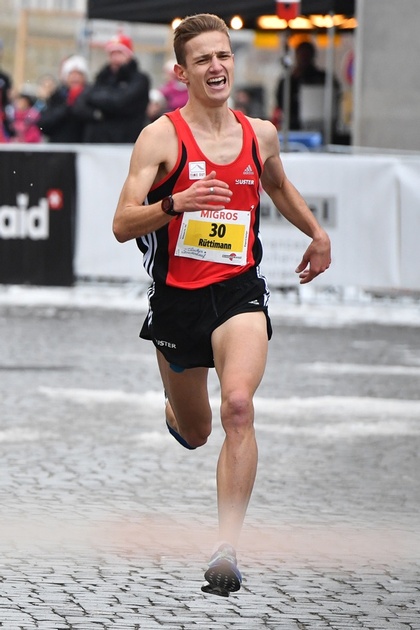 Interview with Eric Rüttimann
The son of the former racing cyclist Niki Rüttimann is creating a furore in the running scene. The 26-year-old has already won several Swiss Champion titles and is aiming to run the qualifying time for the European Championships.
Whereas your father finished the Tour de France and the Giro d'Italia, among others, in top positions, you are mainly competing on foot. Did a career as a racing cyclist never come up for discussion?
My parents never put me under pressure and let me decide what I wanted to do instead. It was thus my decision to start running about 10 years ago.
After three years, I switched to the saddle for one year. My successes in bike races, however, were very modest. That's why I returned to running again after one and a half years. Unlike my father, I simply don't have enough talent. Furthermore, as a novice, I didn't have any «basic schooling» in bike racing. I was much too impatient and did not give myself the time to gain a foothold in cycling. I immediately found my feet in running again and success returned quickly. I still get extreme pleasure out of cycling today and follow every race and integrate it as a training alternative.
Last year you attempted to run the qualifying marathon time for the European Championships. This year you will mainly be competing in the shorter distances. Where is the path of the runner Eric Rüttimann leading?
That is a good question. I only dared to attempt the marathon distance at all last year because the European Championships qualifying standard is the easiest to run. However, I sustained a lot of injuries during preparation and suffered side stitches in both of my marathons. This somehow doesn't fit with the long distance.
I thus looked for new challenges, ran cross-country, in the hall, and now on the track and have discovered that I am at my most efficient in a race duration of 10 to 30 minutes.
I would now simply like to run the best times possible. And who knows, maybe I will achieve the European Championship qualifying standard for the 5,000 m or 10,000 m distance.
With regard to your first marathon, you oriented yourself towards Tadesse Abraham and his environment and came across LC Uster and Urs Zenger. In your opinion, which key parameters were changed to lead to this leap in performance?
«Train hard, win easy» doesn't apply to me. It was much more a case of «train smart, win easy». Since I've been following the training philosophy of Urs, I train much less intensively than before. The focus is on a lot of basic training and less hard training and thereby improving my anaerobic threshold.
The scope of training has remained about the same. I continue to train twice a day, six days a week. Only in terms of core stability have I started to intensify the effort.
5000 m, 10 km, half marathon, marathon - you have celebrated successes everywhere. In your eyes, what are the most important factors that lead to success?
With respect to training and physical development, good health is the most important factor. What or how exactly you train is actually not as important as ideally remaining healthy and injury-free over the years.

With regard to the social aspect, a supportive and motivating environment is of great importance. In competitive sports, as in life, you are sometimes put under a great deal of pressure and the greater the support from partners, family and friends, the better all obstacles can be overcome.

If you have fun doing what you do, everything is easier, and success practically comes automatically.

Being relaxed and composed at the starting line and during the race is an art and a challenge at the same time. But it is precisely this that helps you reach your maximum personal potential.
Do you have a secret tip you would be willing to share with us?
A training plan is not carved in stone. Trust your gut feeling and don't let the numbers unsettle you. When it comes to exceptional achievements, you are allowed to be a little crazy. I think it is OK to have a screw loose.
Foto: ZVG
Many thanks to Eric Rüttimann for the exciting answers.
This may be of interest for you too