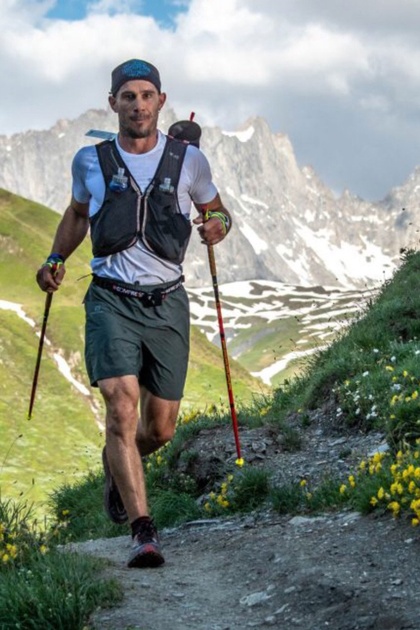 Interview with Jean-Philippe Tschumi
For many people, Jean-Philippe Tschumi was a complete unknown before the start of the Eiger Ultra Trail (EUT). This is despite his remarkable prize list including several Ultra-/Trail wins. The runner from Vaud showed everyone and won the 7th edition of the EUT in a majestic fashion.
How did you find «your» day at the foot of the Eiger north face? Can you tell us about your race and the emotions you felt?
I arrived in Grindelwald without any pressure. Nobody was expecting me and I was in a state of mind of having a great race in terms of effort management and enjoyment. Right from the start I felt great. I was aiming to follow the lead group until Wengen then to speed up in the climb under Männlichen, which is exactly what I did. Then, once I got in front, all I had to do was keep going until the end... I have a great memory of it.
Two weeks before the EUT, you won silver at the Swiss trail championships over 73 km at Verbier. What does your training look like?
I don't have a training programme. I tried to follow one at the beginning of the season, but very quickly it became a straightjacket. What I like doing is in the evening, before going to sleep, I work out my outing for the next day. Which peaks, crests and paths I want to run. After that, putting on my trainers is pure enjoyment.
In endurance races of this kind, mind and diet play a huge role. What generally runs through your head during a race? Also, what is your supply strategy?
One of the greatest discoveries I have made since I started this sport was the discovery of my body. Before that, I listened very little to my body, my head was the one making all the decisions and the body just had to put up with it. I now think that the two are intrinsically linked. When my body says no, that's tough because I don't accept it. But I am learning, little by little... In my head, everything is fine because I like what I do, I don't really have any issues, other than my approach to winning.
Food is so important, it's quite simply our fuel. Early on, I didn't eat properly at all. I ended up in some right states. Now that I completely stick to the designed food structure, I haven't had any surprises. You have to be extremely strict and never go off plan, otherwise that's it...
More and more runners are considering taking part in an ultra trail competition once in their lives. What are three of your top tips to face this kind of challenge?
To do it, of course
Trust your body completely (mentally and physically) because it has unbelievable depth of resilience.
Start very quickly... No, just joking :-) To systematically chase away thoughts and negative vibes from your mind.
Do you have a secret tip you would be willing to share with us?
Oh I don't have any secrets. I try to do things as naturally and as simply as possible. Oh yes, one tip, broth at the refreshment stand, it's brilliant.
Many thanks to Christoph Strasser for the exciting answers.
This may be of interest for you too