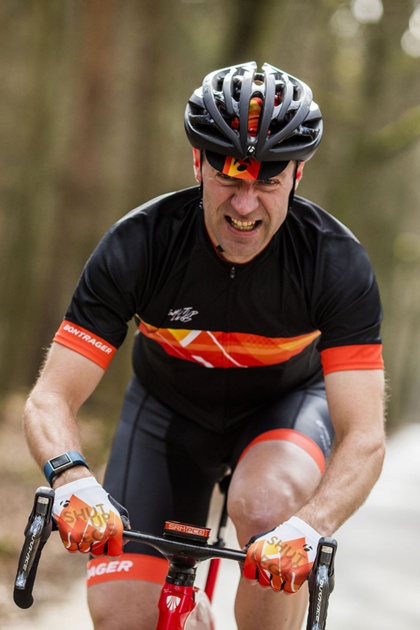 Interview with Jens Voigt
Jens Voigt became a professional in 1997, and won stages in the Tour de France and the Giro d'Italia. He also achieved an hour world record in 2014 with 51,115 kilometres. What's more, he became famous for his aggressive and team-conducive cycling style.
What have you been doing for a living since your career ended?
I have actually become more active since I ended my active career. My main profession is undoubtedly my job as a brand ambassador for the bicycle manufacturer Trek. Trek was also the title sponsor for my last team. Last year saw me fly several times to Canada and the USA for Trek and also once to Chile and Brazil.
I am also the ambassador of the Tour Down Under in Australia and the Tour of California. I then brought out a book last year about cycling and my life, of course.
I work together with Zwift, a company which produces a virtual reality cycling game, in order to make training on the home trainer more exciting. And last but not least, I have a small clothing company SHUTUPLEGS.com for shirts, sweatshirts, and cycling clothing. Each year in October, I organise my own cycling event in California, the Jensie Gran Fondo, which takes place a little to the north of the Golden Gate Bridge in San Francisco. I think I travel just as much as an active professional cyclist.
You experienced and also helped shape the cycling sport for many years. In which areas has it developed the most?
On the technical side, there were two developments that I found outstanding. Firstly, there was Shimano's invention of the brake and shift lever. This has changed our sport like few other technical innovations. It has made our sport safer. There is no longer any need to take your hand off the handlebar when you want to change gear.
Secondly, the widespread introduction of carbon. This is now not only being used in the construction of frames, but also in seat posts, handlebars, crank arms, and also in Aero wheels.
The cycling sport has become bigger, better, more global, and more glamorous. The teams have much larger budgets, and the salaries of all the people working in the cycling sport have become better. However, the cut-throat competition between the cyclists has become tougher. There are around 1300 registered professional athletes and about 500 places in the World Tour Category. This means practically three cyclists are competing for one place. That is a lot of stress for all involved.
Another big change lies in the fact that while all cyclists may be competing in fewer races, all of the races are important. In my first year as a professional cyclist, I had 113 racing days. I never accomplished that again. During my last years, I always had between 85 and 95 racing days and was thereby still one of the hardest-working professionals.
How do you need to train in the professional cycling sport today if you want to succeed? What are the three most important elements/factors?
The development is quite clearly moving away from "long and slow" as was the practice in the old GDR times. The trend is moving towards individual training plans and more intervals. In the second half of my career, I rarely had a training unit without needing or wanting to cycle an interval training unit. Slowly cycling long distances in the autumn and very early spring is still necessary to build up your basic endurance. But when it's time to go to the team training camp, or when the first races draw closer, then everyone cycles intervals. There are two strategies: firstly, there is the strategy I follow, which is simply training in all areas, a Jack of all trades so as to speak, in order to be prepared for all possible situations and secondly, the strategy pursued by specialists like Marcel Kittel or Tony Martin, who want to increasingly build up their strengths and are less concerned with developing their all-round capabilities.
One of the most primitive and simplest training formulas is "everything that hurts you in training makes you stronger." Of course, I am only speaking for myself here and training scientists perhaps think quite differently, but this is my rule of thumb. Answer this simple question: When and why do I get left behind?
Because I can't cycle 4 hours at an average of 41km/h? Because I can't cycle 10 minutes at 450 watts on the mountain or in an echelon? Because I can't cycle at 800 or 1000 watts in order to jump ahead to the top group? Because the constant changes in rhythm on the mountain wear me down? Because I can't stand up in the saddle on the mountain without my heart rate going through the roof? If you found the answer that applies to you, then work precisely on this weak point in order to master the situation that always overtaxes you at the next race.
Many hobby cyclists participate in bike marathons such as the Ötztaler, for example. What tips can you give them for a successful outcome?
First and foremost, they should check their equipment the week before the race. Are the brake pads still OK? The tyres? And don't forget the chain and sprocket. The saddle is also important as we ultimately spend most of our time in it. Old or bedraggled handlebar tape should be replaced because it's just more fun cycling on a clean and tidy bike. Wheel check: are the spokes tight, but not too tight? People - and I mean this seriously - your life can depend upon properly functioning equipment! This should not be taken lightly.
Secondly: just be honest with yourself and realistic about your expectations and objectives. If your profession and family prevent you from having enough time to train perfectly, then don't even attempt to cycle in the fastest group. Keep asking yourself this question every 20 minutes: "can I keep up this tempo for 5 hours?" If the answer is no, or even just a "I don't know", then you are simply cycling too fast for your condition.
Thirdly: bring friends, your partner, or family along. Cycle together and support each other during the tour. This not only provides motivational support but also practical support in the event of tyre damage or the like.
Fourthly and lastly – it should be fun. It's your free weekend so enjoy it and try not to set a downhill world record. We all want to return safe and sound to our families, our partners, children, and friends after the weekend.
Foto: ZVG
Many thanks to Jens Voigt for the interesting answers.
This may be of interest for you too