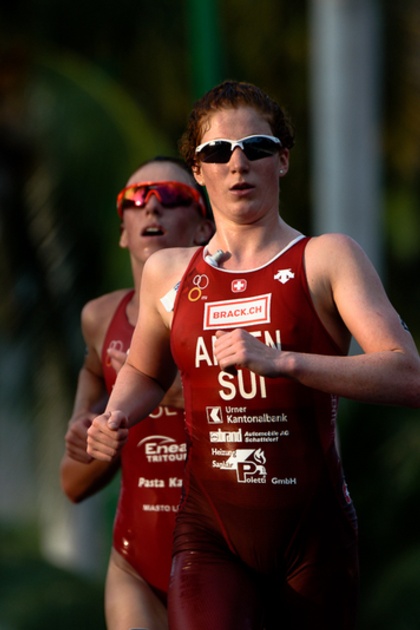 Interview with Jolanda Annen
In the shadow of Nicola Spirig and Daniela Ryf, a new star has risen in the Swiss triathlon sky with Jolanda Annen. This year, the 24-year-old "2015 up-and-comer" won a World Cup race for the first time in Huatulco, Mexico, where she confidently qualified for the Olympic Games.
What did your preparation for the Olympic race look like during the final weeks and months?
From November to July, my preparation was structured on diverse training camps. I trained regularly with the Swiss triathlon national team and was able to count on the good support of various training partners.
On average, I train 22 hours a week, which means around 25 km swimming, 180 km cycling, and 70 km running. Add to this two strength training sessions, where I train to strengthen my core stability and above all, prevent injuries. To recover, I get massages, use my Blackroll, or do stretching exercises.
You have made enormous progress over the past 2 years. In your opinion, what are the most important factors that made you faster which hobby athletes could also avail themselves of?
Key for me is the fact that my coach, Marc-Yvan de Kaenel, planned a very good training structure for a long time and we were able to implement it well. Of course it was very important that I was able to stay healthy during this time and constantly increase my training workload.
To my mind, it is of the utmost importance that amateur athletes also find a good mix between basic training and speed training.
What runs through your head during a race? How do you respond to any negative thoughts that pop up?
In good competitions I am usually not aware of the thoughts that I had during the race. This is because I am totally focussed and try to convert my entire energy into speed. When negative thoughts pop up I try to think of tough training sessions, for example, and remotivate myself so I can speed up again. Or when I am running, I pay heed to my technique in order to refocus.
In April 2014, you were diagnosed with the infectious mononucleosis viral disease. You rejoined the competition scene after taking a break from training for several months. What are your most important tips for a successful comeback after an injury or period of illness?
I realized how important it is to wait until the body can perform again. Although my values were already in the green zone again, I still decided together with my coach to refrain from running training, because that places the body under the greatest strain. During this phase, it was very important to listen carefully to the signs of the body, and sometimes even abort or totally miss out a training session.
We would like to thank Jolanda Annen for the exciting answers.
This may be of interest for you too