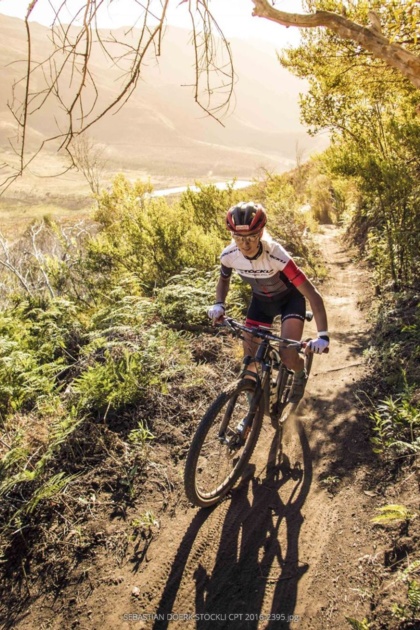 Interview with Jolanda Neff
The 23-year-old athlete from St.Gallen is riding from success to success. She won the Swiss, European and World Championship title at the U23 and has also celebrated several World Cup victories at professional events as well winning the overall World Cup twice. The next goal on Jolanda Neff's agenda is the Olympic Games.
With this success at all levels, you have a fantastic career. What are for you the three most important reasons behind the impressive development of your performance?
The joy of mountain biking, which I still feel at each training session; the fact that I didn't push myself too hard too soon during my adolescence - thanks to that, I see I still have huge potential; and the fact that, while I am open to new experiences and willing to work on myself, I still stick to tried and tested formulas, such as having my father as my trainer.
In August, you are taking part in the Olympic Games in Rio. Possibly both as a mountain biker and a road cyclist. How big is the competitive pressure differential? What are your advantages as a biker? In which areas are the road cyclists ahead of you?
The competitive pressure is completely different. Whereas those with the highest average performance win a mountain bike race, a road race primarily calls for performance peaks. You need to be able to switch off your mind and cycle until you drop. It's also good to be able to switch your mind off when biking, but it's better to switch it back on again before you fall over ;-)
Can you give us an overview of what your training looks like? How many kilometres do you cycle with the racing bike, how many with the mountain bike. How often do you do strength training and how much time do you invest in recovery?
I never count the kilometres (fortunately my Polar computer does this), but only the hours. It is irrelevant whether I collect hours on the mountain bike or racing bike. If anything, it depends on my training partners. It is important for me to have a strong trunk, however, I never do strength training with barbells. As far as recovery is concerned, good sleep is extremely important and for that reason I make sure that my mobile phone does not prevent me from sleeping properly. Regular massages are also part of my regeneration program.
What are your three most important tips for all those wanting to participate in a mountain bike race?
It will be tough! Be prepared to drip lactate from your ears and feel like your lungs are threatening to burst. And just remember: all the others are feeling the same.
Fair cycling. Cutting someone off as you pass by or using your elbows to push in a trail has never made anyone new friends yet. There will be enough openings where you can play to your strengths and get ahead whilst being totally fair.
Buy a Stöckli bike! You will either win the race hands down - or at least have the most beautiful bike of all!
Foto: ZVG
Many thanks to Jolanda Neff for the interesting answers and tips.
This may be of interest for you too