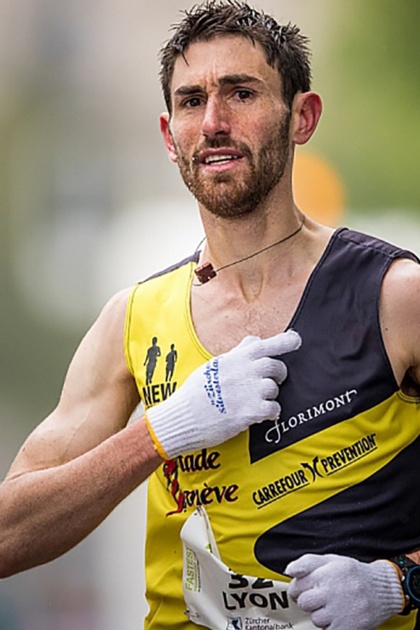 Interview with Julien Lyon
Besides Julien Wanders, Geneva boasts another talented runner by the name of Julien Lyon. We put the following questions to him:
You have made steady progress over the past few years and won a gold medal for Switzerland in your team at the European Championships last year. What do you consider to be the three most important factors for your success?
The dream
When I was eight years old and was asked what I would like to become when I grew up, my answer was "professional runner". It's something I've always dreamed of and I assume this is the key factor for my success.
The mentor
The dream, the ambitions, and the motivation are unfortunately not enough ... The road to success is long and full of obstacles. My motivation took a dip a few times whereby I stopped training, only to start it again later. It is crucial to be well trained. My current coach, Tesfaye Eticha, has been actively supporting me in this respect over the last few years.
Perseverance and regularity
I have been practising running for about ten years, and I now have a great number of kilometres and strict training sessions under my belt. It is thanks to this work that I have now arrived at where I am today.
Compared to the other runners you take part in quite a lot of races. Can you describe your weekly schedule during the various phases of the year? How many kilometres do you run, what alternative training do you have recourse to, and how much time do you spend on strength training and recovery?
I ran more races this year, the majority of which were more like training for me. These training competitions are supposed to prepare me for any possible difficulties or stressful situations in the main competition.
Throughout the year, I run between 140 and 200 kilometres a week, which are distributed among 10 to 12 training sessions. Apart from that, I do strength training once a week and twice a week at the beginning of my preparation. The closer the competition gets, the more I invest in training units with a competitive speed.
Furthermore, I give a great deal of attention to recovery by taking a one-hour nap every afternoon and having two massages a week. I am not doing any alternative sports at the moment. My weeks are already well packed!
This year you will be preparing yourself in Ethiopia. What expectations do you have and what challenges do you face?
My main goal this year is the World Championships in Athletics in London. I need to run the marathon in under 2 hours 15 minutes in order to qualify. I am therefore travelling to Ethiopia at the beginning of this year because the winter conditions in Switzerland are not so optimal. Ethiopia offers me the ideal conditions; good weather with pleasant temperatures at altitudes of 2,500 to 3,000 metres, strong training partners, and a healthy and quiet pace of life without any stress.
It is the goal of many runners to compete in a marathon once in their lives. What are your three most important pieces of advice for these athletes?
I encourage everyone, no matter whether they are a novice, amateur or advanced athlete, to participate in a marathon at least once in their lives. It is the most beautiful experience I have ever experienced. A marathon is an intense concentration of emotions that you will remember all your life. My three pieces of advice are as follows: systematically prepare yourself for at least three months, gradually increase your training volume, and do not change your habits, such as diet or clothing, just before or during the marathon.
Foto: ZVG
Many thanks to Julien Lyon for the exciting answers.
This may be of interest for you too