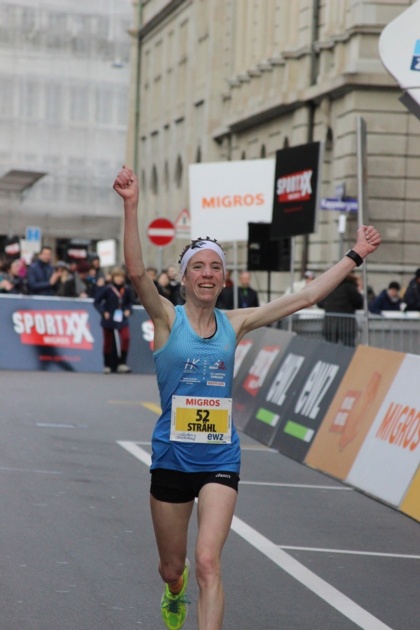 Interview with Martina Strähl
2015 seems to have been Martina Strähl's year. The petite runner from Oekingen (SO) achieved 15 victories this year, eight of which were track records. The curative teacher's hunger for success, however, is far from satisfied. Her goal is the Olympic Games in Rio.
Be it a city run, mountain run, or marathon - your name can be found everywhere in the winner lists, and when it comes to mountain running in particular, only very few men have managed to beat you. How do you explain your strength in all areas?
I love the variety. Both in training and in the competition. I therefore make sure my running training is quite varied and also do a lot of alternative training. For years I have been accustomed to applying various types of sport and training to different disciplines. I also believe that a good mountain and marathon runner should be fast even over short distances.
When you were younger, you were always held back by injuries. What are the three most important tips you can give to runners in order to optimise their performance without succumbing to injury?
It is advisable to listen to your body during training and act accordingly. This requires a certain degree of flexibility in the training program and not stubbornly adhering to your training plan. However, self-discipline and the necessary degree of consistency should not be lost in the process. What's more, this body feeling should not be confused with motivation.
The training should be varied. Varied training with several alternative units (biking, cross-training, swimming etc.) not only provides relief for the body but the desire to run is much greater again after a run-free day.
After strict training units, the body should be granted sufficient recovery (massage, physiotherapy, sauna, spa, sleep). Less is sometimes more!
Your big goal is the Olympic Games in Rio. What does your preparation for this great goal look like?
I always look ahead in small steps. I take one week at a time and adjust the training to my physical condition. At the same time, I always keep the Olympic Games as well as the limits that need to be reached in mind. To achieve this , my trainer Fritz Häni and I are currently preparing an optimum competition plan.
Your great strength lies on the mountain. You haven't only proved that this year. What should hobby runners particularly focus on if they want to improve or optimally prepare themselves for a Zermatt Marathon, for example?
It is important to regularly combine running training on a longer, flat distance with a mountain running training. Many runners find the transition from flat to mountainous very difficult which is why it needs to be practiced! At both the Zermatt Marathon and the Jungfrau Marathon the route is flat at first and then it goes uphill.
The head usually makes the decisions during a mountain marathon. It is therefore advisable to also do some mental training. Positive thinking alone can play a major role throughout the entire competition.
Practice your eating and drinking during a long competition. You can lose a lot of fluid during a mountain marathon, which has a negative impact on performance. Regular drinking can prevent cramps in the last few kilometres. At the Zermatt Marathon, for example, I drank an energy and mineral-rich sports drink (3-4 dl) every 5 kilometres, which meant I could pull through without any problems.
Foto: ZVG
Many thanks to Martina for the interesting answers and tips.
This may be of interest for you too