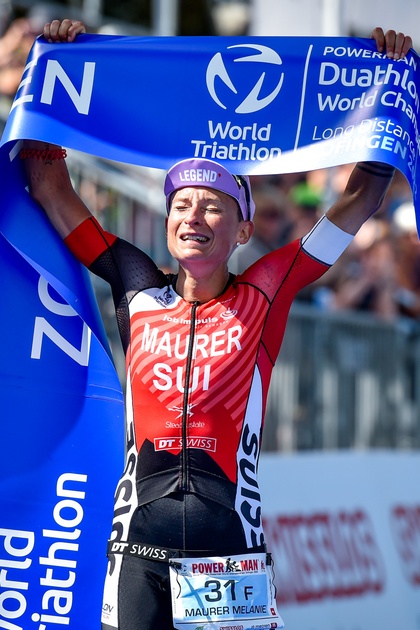 Interview with Melanie Maurer
It finally worked out. Melanie Maurer was deservedly named the Long Distance Duathlon World Champion in Zofingen. For the local heroine, who won the Middle Distance World Champion title in spring, this is the second highlight in what has not exactly been an easy season.
How did you find «your» day? Can you give us an insight into your race and how you were feeling?
It was just a perfect day for me! The weather was great and I had so many friends, acquaintances and family members supporting me along the route with all their might, cheering me on loudly from the first to the last metre. Of course, I also had a few crises during the nearly 7-hour-long race, but they were really short-lived compared to previous years, so I was able to enjoy most of the race!
For a long time your participation was uncertain due to health problems. How did you prepare yourself physically and, above all, mentally for the race?
Knowing that giving up could again be an option this year, I felt relatively free at the start. Should pain have forced me to DNF, I could have accepted it. However, I was aware that I could maintain a certain level of fitness and that I don't need to hide if everything goes well.
Duathlon, triathlon, road cycling, running - Melanie Maurer is a world class athlete in all types of sports. In your opinion, what are fundamentally the 3 key factors that lead to success?
That you enjoy most of the things that you do. Be it your sport or otherwise. Then I need variety and new stimuli in my training. For the body and mind. And lastly, regeneration.
You are not only an athlete, but also a coach for hobby athletes. Can you tell us your training philosophy?
When it comes to the training plan, I feel it is important that the athletes have a lot of variety here too. This means that the plan rarely includes exactly the same training. I also believe it's important to always individually tailor the plan to the athlete and their everyday life. And having fun is also key here. It shouldn't just be a case of reeling off the training hours, it should be fun. Even if some training units "hurt" occasionally ;-)
Do you have an insider tip with regards to training, equipment, nutrition, or recovery?
Trial and error. It may sound simple, but in all the areas listed here, it's worth trying out what works for you. No two people are alike. Therefore: Experiment to find out what works for you and your body. There is no recipe that suits all :-)
Many thanks to Melanie Maurer for the interesting answers.
This may be of interest for you too