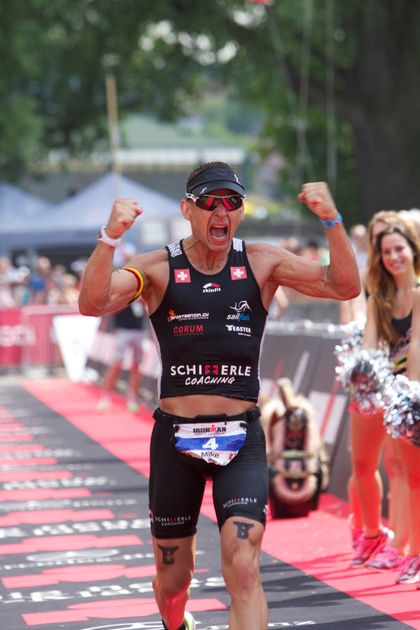 Interview with Mike Schifferle
At the beginning of October, Mike Schifferle completed his 99th Ironman race at the Ironman Hawaii and thus achieved his athletic life goal. The athlete from Lucerne can look back on an impressive career. In 2009 he became vice amateur world champion in Hawaii and competed with the professionals from 2010 to 2018. And all this alongside a full-time job.
How did you find your 99th and supposedly last Ironman? Can you give us an insight into your race and how you were feeling?
The Ironman Hawaii is always something special. My 10th participation, 99th and supposedly last Ironman made it even more special. While swimming and cycling I focused on the race. It was only during the final marathon that I became fully aware that this would probably be my last Ironman. Even though the heat and the pain of my injury (hip) made it pretty hard, I tried to enjoy the final metres. I felt somewhat sad as well as joyful at the finishing line because I realised a part of my life is over and my priorities in life will be different in future.
A lot has happened on the long distance over the last 20 years. How have the requirements for athletes and equipment changed over time?
For the professionals, excelling in one or two disciplines is no longer enough if you want to be at the top. Balance is required in all three types of sport to get into the top rankings. In terms of training and equipment, the triathlon has become extremely professional over the past 20 years. The top Age Groupers, particularly in Hawaii, are taking a cue from the professionals. Many of these athletes reduce their workload and put a lot of money and effort into equipment and training. With today's equipment and the latest findings pertaining to training, aerodynamics and biomechanics, more energy can be saved than in the past, which also leads to faster finishing times and probably also improves regeneration. But at the end of the day, you still have to do the swimming, cycling, and running yourself.
Many amateur athletes want to complete an Ironman once in their lives. What tips make this possible?
The amount of effort you need to put into your preparation depends heavily on your previous athletic career and personal goals. An experienced coach can certainly be of great help here. But you shouldn't be too scared either and simply take the plunge, accept the challenge and register. It is easier to train with a clear goal in mind and at the end of the day, you can only ever really win. You learn the most from a perceived defeat.
In your opinion, what are fundamentally the 3 key factors that lead to success?
For me, success is always a question of definition. Personally speaking, success does not just mean always having achieved the set goals, but also finding inner satisfaction while training for this challenge. I believe discipline, passion and an easy-going attitude are generally the most important factors that lead to success. Discipline is not a quality that you do or don't have, it can be acquired. You can both have and develop a passion for something. For me, this means being hungry for gradual improvement and optimising your performance capability. An easy-going attitude should not be confused with indifference. I think you shouldn't be too dogged but always keep an eye on the big picture without losing your balance.
Do you have an insider tip with regards to training, equipment, nutrition, or recovery?
A triathlon is a complex sport, not least because the energy supply you require for the long distances plays an additional, important role. An amateur athlete with a tight time budget can get lost in the endless details. My tip: Keep it simple, work on your body feeling during training without using gadgets and be generous to yourself when it comes to the small things and uncompromising when it comes to the big. You have to find your individual path to success when it comes to training, equipment, nutrition, and recovery. Irish writer Samuel Beckett has an apt quote: "Ever tried. Ever failed. No matter. Try again. Fail again. Fail better." The triathlon is a mistake prevention sport. You will always make mistakes and learn from them. It is important that you recognise why and where you made the mistake. A good coach can certainly provide support here.
Foto: zvg
We thank Mike Schifferle for the interesting answers.
More info about Mike Schifferle is available here.
This may be of interest for you too