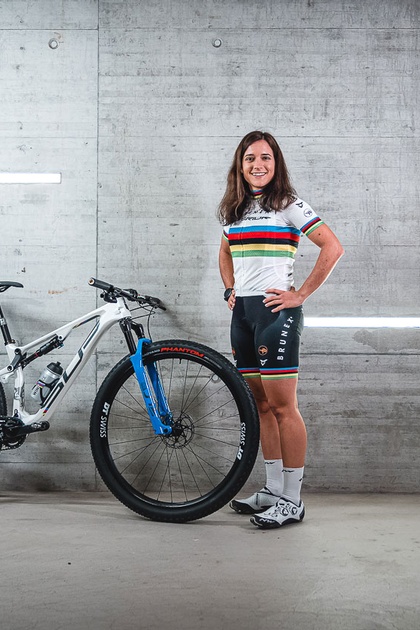 Interview with Ramona Forchini
Foto: Thomas Weschta
In the fight for her first international marathon title last October, the 26-year-old athlete from Toggenburg instantly became a world champion! This success was all the more astonishing considering the fact that the former U23 cross-country world champion had been curbed by a stubborn infection in the summer and could hardly train.
You surmounted a difficult year by winning the 2020 marathon world championship title. In retrospect, what was the key to success for you?
Corona had already made it difficult enough for us athletes. But the illness-related two-month break in the summer turned my plan completely on its head again. But the joy of doing what I do always prevailed. This gave me the motivation to forge new plans and fight it out.
What did you learn during this difficult year and will you use it in the future?
I most definitely learnt patience: first, marking time during the lockdown and then sitting at home and watching the races take place without me. That hurt. But how does the saying go? After the rain comes sunshine! I have thus learnt that when things get really low, they can also get really high again.

What are your three most important training tips for amateur cyclists wanting to participate in a race this year?
Be flexible! That is probably the most important thing right now. Due to corona, your goals can suddenly be pulled out from under your feet if the events get cancelled or postponed.

Maintain your equipment! Intact equipment is not only faster and safer, but also gives you more joy in training.

Have fun! Don't lose your joy if something does not go as you imagine it should. Train hard and always keep a smile on your face.
What does your "normal" training week look like?
We train differently depending on the training phase. In winter, for example, we also do cross-country skiing, jogging or ski touring sessions in addition to strength training. I usually train in two phases due to the weather. During the competition phase, the training time is usually reduced, since travelling takes up a lot of time. Recovery is one of the most important parts of training. For that reason, I enjoy my rest days and usually do my office work as well.
Do you have 1 insider tip you would be willing to share with us?
This is not an insider tip – it's something extremely simple: "Don't dream, do it." If you want to know more about what I'm currently up to, follow me on Instagram or Facebook :-)
We thank Ramona Forchini for the interesting answers and wish a successful season!
This may be of interest for you too