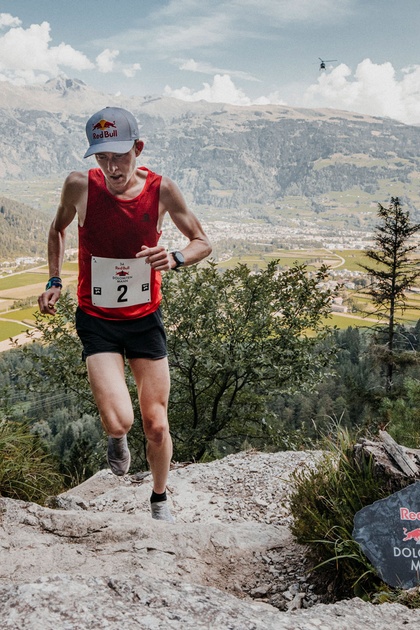 Interview with Rémi Bonnet
Foto: Christopher Kelemen
It's hard to put a label on Rémi Bonnet because there are so many sides to him. The high-level athlete from Fribourg doesn't seem to set any limits. As part of the alpine skiing world elite in winter, young Rémi is no less formidable in summer when he puts on his trail shoes.
You win ski touring races, mountain races, trail races and skyrunning competitions. In your opinion, what are the three main elements that have contributed to your meteoric rise?
The fact that I love the mountains.
My tough training, based on the "Train hard, win easy" motto.
My desire to always go faster and to be better than my opponents.
In winter on the snow, in summer in the mountains. What does a typical training week look like for you?
I spend about three hours a day in the mountains. Half of the training is agreed with my trainer and focused on sports goals. The rest, I decide myself based on my health levels. Typically, I do two very high intensity units a week, while the other units are on a more basic level. The intensive trainings are really very tough. If I achieve them, I know the competition will be easy.
I do very little strength training. I am equipped for this at home and try to do something along those lines at least once a week.
Foto: Philipp Carl Riedl
What are your top three training tips for recreational runners to make 2022 a success?
Enjoy your training, otherwise it will be short-lived.
Be sure to train regularly. Consistency is the name of the game.
Avoid experimenting during competitions. For example, you must try out equipment or food in advance during training.
Can you describe both your favourite workout and the workout you dread the most?
My favourite workouts are the long sessions where I don't have a watch and where I'm guided by pure enjoyment. When I'm on my way without time constraints and I can still climb this or that mountain.
I have the greatest respect for training where I really must go to the maximum. Workouts that challenge me not only physically, but also mentally. For example, 3x10min of climbing at a pace that I could hold for 30 minutes, followed immediately by a descent at competition pace (controlled).
Is there a secret trick that you like to use and that you can tell us?
I don't believe there is any secret. You just have to work hard to get what you dream of. If I had to give one piece of advice, it would be this: go with a smile to get what you want.
We thank Rémy Bonnet for the interesting answers.
This may be of interest for you too