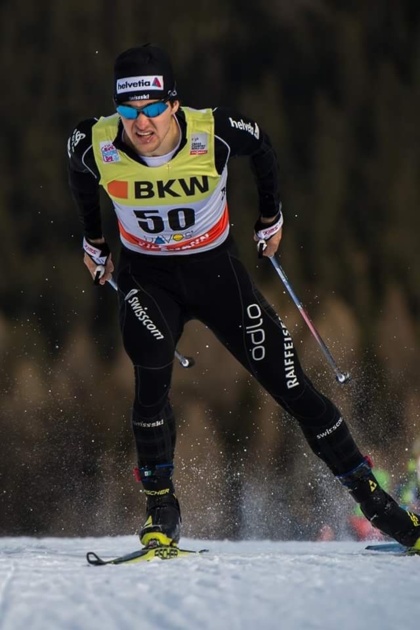 Interview with Roman Furger
Cross-country skiers do not necessarily have to grow up in mountain regions. Take, for example, the two-times winner of the Engadin Skimarathon, Roman Furger. From the Swiss Canton of Uri, he also began his sporting career as a cross-country runner, footballer and ski racer, before discovering an attraction to cross-country sport at the age of 12. Today, this business graduate is in the Swiss-Ski 'A' squad, trying to close the gap to becoming world class.
As a young man, you practised multiple sports. What made you finally opt for cross-country skiing or what attracts you to this kind of sport?
As a child, I already enjoyed exercising in the nature. I was always doing lots of different sports. Doing a bike tour or Nordic walking training in the summer and running through the snow-covered forests in winter, attracted me as a young sportsman. Training as a cross-country skier is very varied - I really do enjoy it!
For 15 years now, you've been competing in cross-country contests. How has the sport changed during this time?
In the last 5-6 years, speed and specific power have become increasingly important, as many contests are decided during the sprint. At that time, the scope of training and, above all, its intensity was constantly increased.
Cross-country skiing is a very complex kind of sport, requiring power and coordination, as well as great stamina. What are your three most important training tips for people wanting to compete, for instance, in the Engadin Skimarathon this year?
Good physical condition is surely paramount. Continuously doing sport the whole year long, with a little power training, will certainly improve your race time at the Engadin Skimarathon. A good technique is very important too, helping you to enjoy cross-country skiing.
In the Swiss team, you are able to continuously compare yourself with world-class skiers. In which areas do you have the most catching up to do and how can the gap be closed?
My greatest weakness in recent years has been my consistency. I was often injured or ill, which limited my training. In the last two years, I have made progress in this and could complete more wide-ranging training as a result. I must also improve more in traditional technique.
Many thanks to Roman Furger for the interesting answers.
This may be of interest for you too