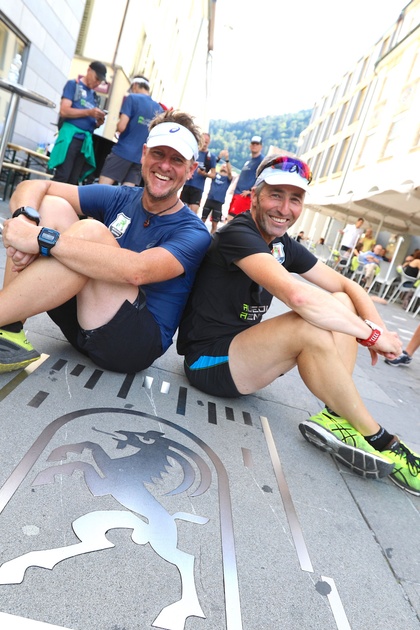 Interview with Ruedi Frehner
In 2011, Ruedi Frehner had a great idea: he wanted to run for a good cause. Namely for those who are disadvantaged. He has already collected more than CHF 200,000 for various projects! And more will follow, thanks to his second half marathon taking place this year.
How did you come up with the idea of running to collect money?
I have always been committed to helping other people. I was the president of a ski club for several years and was also the leader of a youth organisation as well as a fitness trainer. After this intensive time in the club, I felt the desire to support people who don't always or only rarely ever have it easy in life. I therefore embarked on the "search" for the ideal combination. I wanted to fuse my passion with social concerns... and that is how RUEDIRENNT came into being.
What does it take to turn a good idea into success?
I think it's the same for both sports and the professional world – it takes passion and perseverance. I am said to come across to others as trustworthy and authentic. These are certainly advantages that should not be underestimated when it comes to money and trust. Furthermore, I quickly realised that the RUEDIRENNT funding story is not a flash in the pan. I've put so much heart and soul into it, I even got a tattoo of the RUEDIRENNT logo on my left calf. I know, a bit of a nutcase...
At the end of May, the RUEDIRENNT half marathon will be held for the second time in Chur. Can you tell us more about this event?
Of course, I'd be happy to. It is not just a half marathon, but more of a city run with the possibility to complete a half marathon. The concept of the event can best be compared with the Zurich New Year's Eve Run. The circuit is right in the middle of the beautiful old town of Chur. The length of a lap is 5.275 km. This enables us to offer 1 lap (1/8 marathon), 2 laps (1/4 marathon) or 4 laps (half marathon). There is also the possibility to complete the half marathon as a relay. But even the littlest ones will get their share of fun. Moreover, it is also a charity run. The aim is to generate money for my RUEDIRENNT Foundation. Each runner is aware of and goes along with this idea because when they register, they "have" to give a donation of at least CHF 5 (children CHF 2).
Your projects have seen you running for hours at a time over several consecutive days. What are your most important tricks to ensure your musculoskeletal system can cope with this?
About 20 years ago, I deliberately adapted my running technique. Time and again I came across the topic "which running technique is the right one?". I wanted to know more and started to specifically look into the running technique. I have transitioned from a heel striker to a mid-foot runner, which took some time but has paid off. I run around 3000 km each year without any problems or pain. I have become such a fan; I teach this technique in my running courses too.
Do you have a secret tip you would be willing to share with us?
I always feel the limits that many runners set themselves are too narrow. Be more courageous and dare to run longer distances now and again. I find it fascinating to achieve an athletic performance several days in a row. My social projects usually take several days. In 2016, I jogged from Bern to Chur. 400 km in 10 days, which meant I almost ran the marathon distance each day. Such projects show me time and again just what people are capable of and how they can stretch their limits.
Foto: ZVG
Many thanks to Ruedi Frehner for the interesting answers.
This may be of interest for you too