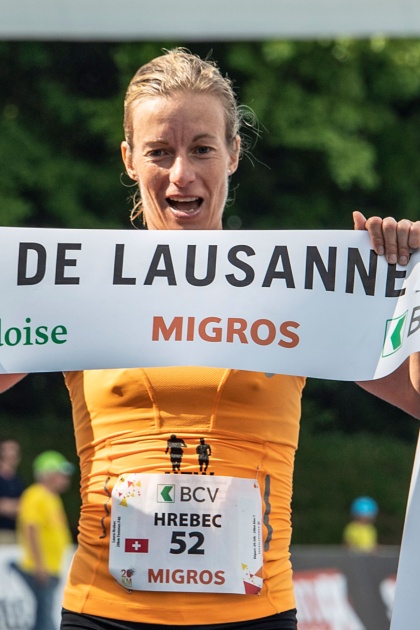 Interview with Laura Hrebec
Laura Hrebec will represent Switzerland at the European Athletics Championships in Berlin in the marathon distance. This is not the first competition at this level for this Francophone Swiss - she has already acquired experience at an international level in the duathlon discipline.
You will be representing Switzerland for the 2nd time at the European Athletics Championships, for the first time in the marathon distance. What are your feelings and expectations regarding this Berlin adventure?
I actually participated there 2 years ago in the half-marathon distance.
The feelings are good, I am in full preparation. My goal is to achieve my best time there. I hope to run a personal best, but also to run the 3rd best time for the team, the three best times being the ones taken into consideration, and the two best being Neuenschwander and Strähl. Two years ago in Amsterdam we already had a good result.
How do you get ready for these big challenges in parallel with your life as a monther of two children and a teacher? What does your training plan look like?
I work full-time as a teacher, but I can train between classes or I manage to find time at the weekend. Sometimes my girls, who are 4 and a half and 7, come with me to the stadium and play in the long jump sand. In terms of the content of my training, I do one long run a week, 1 Maximum Aerobic Speed session plus recovery, gentle jogs and cycling for recovery. I also make sure to take one day off from training a week.
What do you think are the keys to success?
Willingness, perseverance and believing in oneself and in one's abilities.
How do you handle pressure and expectations?
For the moment, there is no pressure on me, the European Championships still seem quite far away. I am not the best on the team so the spotlights are not aimed at me. I do expect some nerves on the day. This is a marathon - If you don't feel 100% on the day of the race, your performance really can suffer the consequences.
Can you tell us a secret? For example, a miracle recipe, a particularly effective exercise or magic formula for relaxing and recovery?
I like saunas and steam baths - that helps me a lot to relax - and I like going for walks in the mountains.
Proper nutrition is also very important for recovery, just as much as sleep. But I do enjoy myself and I do have treats from time to time, however I don't go overboard.
Photos: © @arc
Many thanks to Laura Hrebec for the exciting answers.
This may be of interest for you too