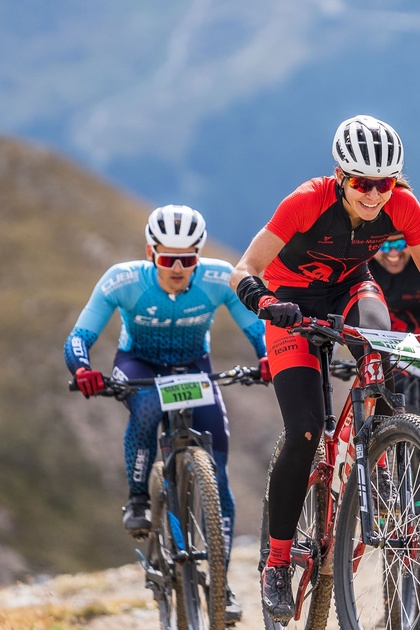 Mountain bike events: what's your treat going to be?
Foto: Nationalpark Bike Marathon
23 events in Switzerland and abroad are scheduled in our calendar this year. Let our overview inspire you!
Mountain biking has enjoyed great popularity for many years. This is reflected in the multitude of events as well as the large number of participants and spectators. The events are real "magnets" and besides hosting this great competitive sport, offer all involved unforgettable experiences.
EVENTS IN SWITZERLAND
Foto: Eiger Bike-Challenge
Foto: Iron Bike Race Einsiedeln
EVENTS IN GERMANY
Foto: Schwarzwald Bike Marathon
Events in Austria
22.-25.06.2022 - KitzAlpBike, Kirchberg in Tirol (A) – The "Streif der Mountainbiker"
86km / 3600m ↑
74km / 3000m ↑
65km / 2500m ↑
38km / 1300m ↑
More info / Registration

03.-06.08.2022 - Ischgl Ironbike, Ischgl (A) – Tough, tougher, Ischgl Ironbike - one of the toughest bike races in Europe
71km / 3200m ↑
7km / 1000m ↑ 980
More info / Registration
Foto: TVB Kitzbüheler Alpen – Brixental, Fotograf Erwin Haiden
EVENTS IN ITALY
Foto: La Spoleto Norcia in MTB
INTERNATIONAL EVENTS
03.-09.07.2022 - MAXXIS BIKE Transalp – The toughest mountain bike stage race across the Alps
566km / 18'378m ↑
More info / Registration

HERO Series – The wonders of the mountains, fascination of the desert, and charm of nature
18.06.2022 - HERO Südtirol Dolomites:
86km / 4500m ↑
60km / 3200m ↑
05.11.2022 - HERO Dubai Hatta:
60km / 1600m ↑
30km / 800m ↑
12.11.2022 - HERO Thailand, Chiang Rai:
65km / 1300m ↑
30km / 600m ↑
More info / Registration
This may be of interest for you too