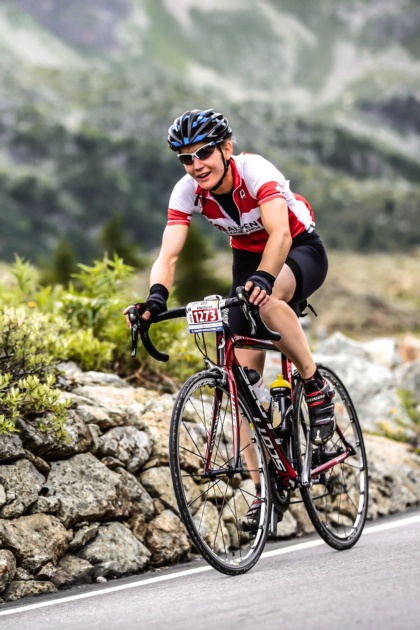 Interview with Nina Zoller
Last year, Nina Zoller achieved top rankings at running events, duathlons, and cycle races. Reason enough to ask the geologist what her recipe for success is.
You ran among the world's top athletes at the World Championships in Zofingen. In your eyes, what factors are fundamental to your success?
First and foremost, it's the joy of doing what I do, the joy of movement and nature, a relaxed attitude, and the ability to listen to my body. This generates a flow of energy that enables me to fly up a pass or race up a mountain, which in turn keeps on motivating me to stay the course. This has been the case for many years, which is a crucial factor when it comes to endurance.
During my bike marathons, which basically constituted my preparation for the Powerman this year, I realised that food and drink were also an important factor. I discovered when I need to eat during the race in order to keep up my performance right to the end. This, coupled with the knowledge of what I am actually capable of achieving, enabled me to get the maximum out of my performance in Zofingen and enjoy the race from the start to the finish.
You work as a geologist and need to strike a balance between training and recovery. How do you organise your training and working life so that neither one nor the other comes off badly?
I simply do what I feel like doing at the time. I usually run or cycle for one to two hours after work or enjoy the evening without doing any sport. On free days, I like tackling mountain passes, longer runs, or mountain-, skiing- or climbing tours. I always listen to my body and usually do three to seven training units a week. All without a training plan.
When I am at work, my legs have the chance to recover. I spend 80% of my time in the office or doing field work.
Your name can be found high up on the ranking lists of various sports. What are your training principles? What does your everyday training look like?
I don't have any everyday training. Each week is different and is adapted to the weather and my "appetite for training". I tend to run all year round, but in the winter and spring I go ski touring and in the summer and automn I switch to bike- and mountain touring. I enjoy experiencing nature and doing what I feel like doing.
Dividing the competition up well is the key to success. How do you divide your races?
Before a race, I look at the map and altitude profile. I then think about where I need to eat according to the length of the race. Other than that, I simply engage in the race and adapt myself to the respective racing situation.
At running events, I usually choose my pace right from the start, whereas at cycle races, I simply link up with a suitable group, depending on the distance, in order to save energy. When it comes to long races, I usually hold myself back somewhat (at the beginning) in order to sustain my pace right to the finish.
Do you have a secret tip you would be willing to share with us?
Do what you feel like doing with joy. Don't force anything, just do whatever you are in the mood for.
Foto: ZVG
Many thanks to Nina Zoller for the interesting answers.
This may be of interest for you too