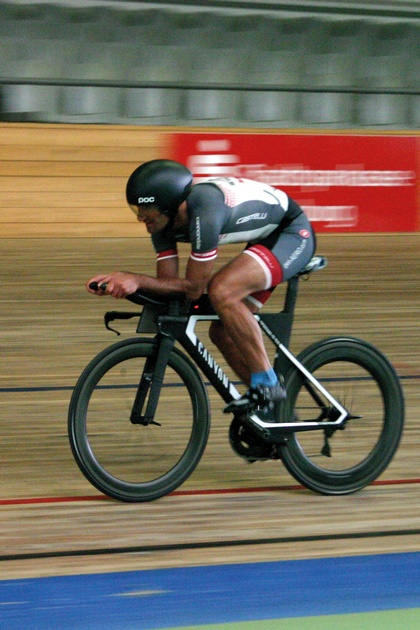 Interview with Roy Hinnen
When he was 18, Roy Hinnen moved to the USA where he trained with Dave Scott and Mark Allen. Inspired by the two triathlon legends, he dominated the Swiss Triathlon scene at the end of the 80s and shaped what was then a young sport. The meanwhile 53-year-old is still smitten today but has moved away from extremism towards a more balanced approach. Roy Hinnen has been working as a coach since 2002 and is known for tinkering with equipment and technology.
You are a pioneer, so to speak, and witnessed and helped shape the overall evolution of the triathlon sport. How have the requirements regarding the athletes and equipment changed over the course of time?
The sport has evolved enormously. The swimmers, cyclists, and runners that somehow tried to cheat their way through the three disciplines have turned into real triathletes who now regard the three sports as a whole and no longer have any weaknesses. What's more, they are now coached by experienced trainers and have top equipment. They thus have the best conditions to be successful.
Furthermore, the triathletes now understand what really matters: the ideal body position, for one thing, which accounts for 75% of their performance, and the suit, helmet and ultimately the bike, for another, which account for the remaining 25%.
Here is a comparison to illustrate how the equipment has evolved:
I needed approx. 305 watts to achieve my 180-km time of 4 hours 35 min. With the newest equipment, it is possible with 248 watts at my current weight of 77 kg! That is an advantage of 57 watts or about 20 minutes!
A few years ago, you started operating a swim flume in Horgen. Who particularly benefits from using it
The swim flume is basically suitable for everyone. Non-swimmers, for example, benefit just as much as professional swimmers. This unique aid is especially suited to interested parties wanting to synchronise the inner and outer view. In other words: I help interested parties improve their technique by pointing out what they do above and below water and show them what they really need to do in order to swim better.
What are the three most important training tips you can give athletes to help them along?
Be bold, persistent, and honest with yourself. Take your life in your hands and don't make others responsible for it.
Many amateur athletes want to complete a triathlon once in their lives. What tips will ensure it works out?
Complete the full race distance three times before the race.
When training, always intake 1 g carbohydrate per hour per kg of body weight.
Swim in the lake 10 times beforehand.
Verbalise your fears before the triathlon and then make the necessary decisions to eliminate them.
In the triathlon: approach it in a relaxed manner and finish strong
Do you have a secret tip you would be willing to share with us?
The journey is the goal. In everything that you do, no matter how good or wrong, you will only come up against yourself. It is best to find a sense of peace that you can maintain, that is incomparable, and does not need a ranking list.
Foto: ZVG
Many thanks to Roy Hinnen for the exciting answers.
This may be of interest for you too