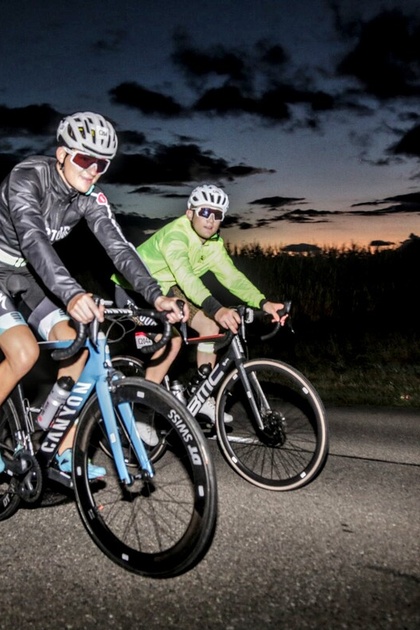 Ultracycling - a challenge like no other
Challenge yourself and participate in an ultracycling event. Prepare with rides and join the ultracycling community for unforgettable experiences.
Ultracycling is a challenge like no other, and more and more young people are joining the trend.
But what exactly is Ultracycling? For many people, cycling is a leisure activity that involves a certain level of effort and challenge. But what happens when the distance is so great that even experienced cyclists are challenged? Ultracycling is a sport that specializes in cycling over extremely long distances. This is not a normal road race, but rather routes that can span hundreds or even thousands of kilometers, lasting several days and weeks without stages.
The goal is to challenge oneself and push beyond one's physical and mental limits. It requires physical endurance, mental strength, and strategic planning to succeed. Ultracycling can be done alone or in a team.
Switzerland is a key player in Ultracycling
There are numerous different Ultracycling events that are difficult to compare. One of the most prestigious Ultracycling events is the Race Across America (RAAM), in which participants must cover a distance of about 5000 kilometers from one US coast to the other in less than 12 days. In Switzerland, the TORTOUR takes place, a three-day non-stop Ultracycling event that crosses the entire country. This is the world's largest non-stop Ultracycling event, which can be completed alone or in teams of two to six. The route covers approximately 1000 kilometers and includes picturesque mountain passes and numerous altitude meters.
Ultracycling vs. Cycling - Stage Races
In contrast to cycling stage races such as the Tour de Suisse, the often thousand-kilometer-long routes in Ultracycling competitions are not divided into stages. Participants receive GPS tracks from the organizer that they can load onto their bike computer. To be accompanied during the event, a support team with a support vehicle is required. Timestations, where the participants' arrival time is recorded, are only found at Ultracycling events. The organizer plans and monitors the participants' progress to ensure that the prescribed time limits are met. At the timestations, participants can meet with their support team, refuel, and exchange information. The participants are tracked during the race and are in communication with the race headquarters, which is in contact with the support team. The routes must be ridden exactly as prescribed by the organizer. The main difference lies in the way the sports are practiced. Ultracycling focuses on overcoming long distances and physical and mental limits, while road races are geared towards fast and tactical races, with the goal of crossing the finish line first.
What is expected of participants in an Ultracycling event?
Participants are expected to have good preparation and a considerable number of kilometers covered to be successful in the Ultracycling event. It is equally important that they have confidence in their bike, as their body will be stressed for hours during the race. Balanced nutrition plays a crucial role, and the timing of meals must be carefully planned. Self-organization and the ability to prepare the body for longer periods of stress are also of great importance.
Why do people do this?
For many people, Ultracycling offers a way to test their own body and find out what it can achieve. It is a unique life experience and is often on the bucket list of many people. Many Ultracycling events also serve as fundraising activities, where participants raise money for charitable causes.
The last kilometers are a mental challenge
One often only thinks about the fact that it will soon be over. Lack of sleep, fatigue, and cramps can make it difficult, especially at night, but one knows that the finish line is near. In addition to physical fitness, mental strength also plays an important role. The mind is crucial to reaching the goal. These are all moments that one experiences in Ultracycling.
Experience an Ultracycling event in Switzerland
For its 15th anniversary, TORTOUR has revamped its concept and now offers newcomers a challenging adventure and an unforgettable cycling experience. In addition to a new location, routes, and race formats, the official Swiss championship in ultracycling over 1000 km will also be held here. A finisher party provides participants with the opportunity to connect with other cyclists and members of the TORTOUR community and join future rides. Let yourself be inspired by this event and maybe one day you will become an ultracyclist or a part of the TORTOUR community yourself. For further information, please visit:
Foto: zvg
This may be of interest for you too