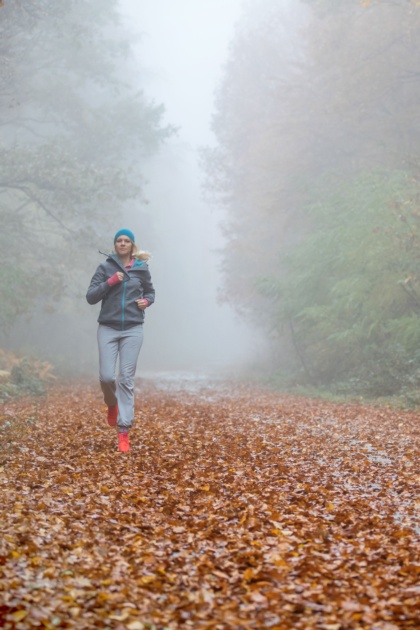 Tips for winter training
The days have become short. Very short, in fact. The long evenings and pleasant temperatures are a long way off and it will be quite some time before there is an improvement in sight. This often has an impact on our motivation and training habits. Our tips will help you to successfully master this «unfriendly» time of year.
Have the courage to take a break
November is the perfect time to take a break from training. Most of the target races for the season are over and, as just described, the outdoor conditions are not very inviting. There is therefore nothing to stop you from taking a break for two to four weeks, so you will be twice as motivated to start your winter training.
Reduce the intensity
You should consciously reduce your training intensity during the winter months. Your focus should be on building up and maintaining your basic endurance. If you persevere, you will benefit in many ways when you train specifically for your next big goal in the spring: not only will your level of endurance be higher, but you can better cope with the training, recover quicker, and the increased levels of intensity will give an extra boost to your performance.
Champions are made in the winter
Continuity is a key to success. However, if you don't touch your training equipment during the winter, you will find yourself starting at zero again in the spring. If you want to optimise your performance and benefit from the positive effects of endurance training during the winter months, then you should plan a fixed training break after your target race and start regularly training again afterwards.
Set small and major goals
It is a well-known fact that there is no right way without a goal. If you have a goal and know why you want to achieve it, you will find a way and won't give up halfway through.
You can achieve your goals in three steps:
First of all, set a realistic goal. Accurately envision your final condition. How do you feel? What is different from today? How will you reward yourself when you've achieved your goal?
Think about why you want to achieve the goal. It's your emotions that drive you. Therefore, think precisely about what is personally very important to you. For what are you prepared to really push yourself?
Write down how you want to achieve your goal. When you have something down in black and white, it feels more binding and obligatory. It's best if you hang the sheet in a place where you can look at it at least once a day.
Example
Goal
Run 3 times a week
Why
I want to have that good running feeling again and feel overall fitter.
How
I will get warm running gear and a light.
I will purchase a training plan subscription and will thus always know how long and how fast I should run.
I will plan three fixed training units in my schedule.
Twice as much fun with the right equipment.
When you train during winter, you need to be suitably equipped for the colder temperatures and darkness. Reflective clothing, a headlamp or flashing lights are mandatory. If you run on snow, you might need other shoes.
Be flexible
If you don't like training in the dark, then switch to training at lunchtime or go to a fitness centre. The treadmill is excellent for doing a continuous run. You can also use it for strength training at the same time. The most important tips can be found here.
Incorporate alternative sports
In the Alps, there are seasonal sports that provide perfect training alternatives. If you regularly go cross-country skiing in the winter, you will happily discover that you have a top level of performance in the spring.
City, Christmas, and New Year's Eve runs are highly motivating
If you like competing against others, then you will have numerous opportunities to participate in running events in November and December.
Foto:iStock.com
This may be of interest for you too