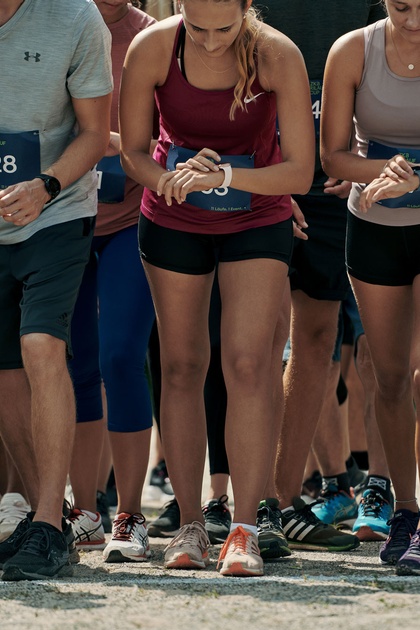 ZKB Zürilauf Cup – More than a run
Launched in 1986, the ZKB Zürilauf Cup has established itself as the oldest and largest running series in Switzerland. 12 runs – 1 experience. It doesn't matter whether you've just started running or have already delivered a top-notch performance: everyone is welcome at the ZKB Zürilauf Cup. Join in and benefit!
12 DIVERSE RUNS IN THE CANTON OF ZURICH
Twelve runs will take place throughout the entire canton of Zurich from January to early October. Choose between varied forest, lake, country and panorama runs over various distances – for young and old.
Find your run with the Run Finder!

SOMETHING FOR EVERY TYPE OF RUNNER
The twelve runs offer a colourful mix for every taste and level - from beginner to ambitious top runner, like five-time overall record winner Christian Mathys. Running for 37 consecutive years: the Laufsporttag Winterthur, the Flughafenlauf, the Pfäffikersee-Lauf – and Viktor Schibig from Illnau. The meanwhile 74-year-old is a recognised constant participant among the series runners.
NEW: HASLI NIGHT RUN – RUNNING BY TORCHLIGHT
Running around the Haslisee by torchlight? You bet! As of 2023, the Hasli Night Run will be part of the ZKB Zürilauf Cup series. A unique experience awaits you: from the Kids Run to the 10-km main category not to mention a lap around the moonlit Haslisee illuminated by flaming torches. Come along and enjoy the great atmosphere in the heart of the Zurich Unterland.
Register now for the Hasli Night Run
HOW DOES THE CUP RANKING WORK?
Joining in pays off. Participate in at least 5 of the 12 runs and you'll be included in the overall Cup ranking. The five best races are used to determine the overall winners in the women/men and junior categories. All Cup participants will be rewarded with an attractive loyalty gift at the end of the season. At the end of the year, the top 5 in each category will be selected at the closing gala.
You can find all information on the Cup ranking here
A HIGHLIGHT FOR CHILDREN AND YOUNG PEOPLE
The best five children and young people will be invited to a varied training weekend with top athletes at the Kerenzerberg on 11 and 12 November 2023.
25% ONLINE DISCOUNT FOR ZURICH CANTONAL BANK CUSTOMERS
As a Zurich Cantonal Bank customer, you can benefit from a 25% discount on the entry fee when registering online. When you register, you are also entitled to use public transport in the ZVV network free of charge on the day of the event.
20 STARTING PLACES TO BE WON FOR THE CITY RUN AT THE ZURICH MARATHON!
Cool running prizes will be raffled each month. There is currently one of 20 starting places for the "10 Kilometer Züri" (City Run) to be won. The participation deadline is 28/02/2023.

____________________________
Register now and become part of the ZKB Zürilauf Cup community. You can find more information about the runs here:
www.zuerilaufcup.ch
You can also share your running experience with the ZKB Zürilauf Cup community under the hashtag #zkbzürilaufcup
Instagram: @zkb_zuerilauf_cup
Facebook: ZKB Zürilauf Cup