ZKB ZüriLaufCup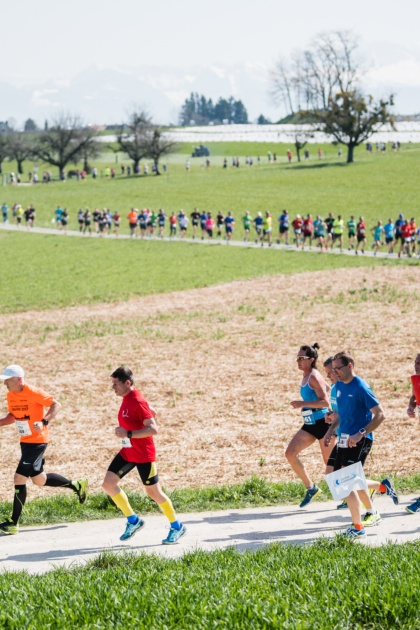 The ZKB ZüriLaufCup is the oldest and largest running series in Switzerland. The Cup has something to suit every taste – in addition to the children's and youth categories, there is a recreational run for novice runners, a walking category as well as the main run for ambitious runners. The thirteen varied forest, countryside and panoramic runs will take place throughout the entire canton of Zurich from January to September.
Cup rating
Those who complete at least six runs will make it into the Cup rating and will receive an attractive loyalty gift at the end of the season. The top 5 in the categories will be invited to the award ceremony at the closing gala in autumn where they will be awarded a prize at a fine gala dinner. The five best in the youth categories will get an invitation to a training weekend in November at the Kerenzerberg sports centre. The young talents can try out different types of sports there and train together with top athletes.
Free ZVV ticket
You can download the free ZVV ticket for your return trip one week before the event via the electronic starting list and if you are registered with a valid e-mail address, you will also receive a link to your personal ZVV ticket.
New 25% online discount on the entry fee
Benefit now! Zurich Cantonal Bank customers can now benefit from an online discount of 25% on the entry fees.

You can find more information here.
Statistics: April 2021
Filter events
[[ getDay(element.t1) ]]. and [[ getDay(element.t2) ]]. [[ getMonth(element.t1) ]] [[ getYear(element.t1) ]]
[[ getDay(element.t1) ]]. to [[ getDay(element.t2) ]]. [[ getMonth(element.t1) ]] [[ getYear(element.t1) ]]
[[ getDay(element.t1) ]]. [[ getMonth(element.t1) ]] to [[ getDay(element.t2) ]]. [[ getMonth(element.t2) ]] [[ getYear(element.t1) ]]
[[ getDay(element.t1) ]]. [[ getMonth(element.t1) ]] [[ getYear(element.t1) ]]
[[ element.name ]]
[[ element.loc ]]

[[ element.covername ]]
[[ element.coverdate ]]

keine Resultate