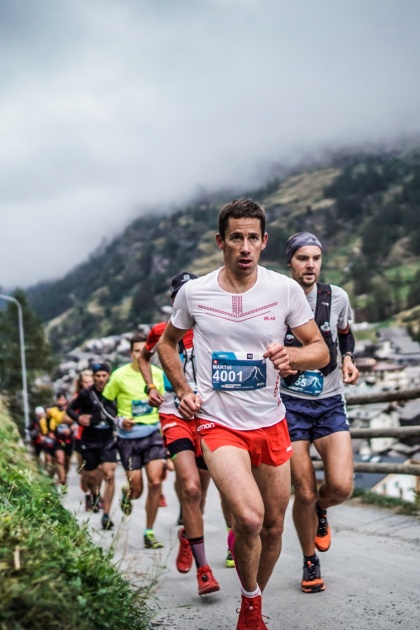 Interview with Martin Anthamatten
Martin Anthamatten from Zermatt won the Ultraks Zermatt, which is part of the Skyrunning World Series, for the second time since 2015, leaving the renowned international competition behind in his home race.
There appears to be no match for you in Zermatt. In addition to your two Ultraks victories, you also enjoyed several victories at the Gornergrat Zermatt Half Marathon. How do you generally prepare for these trail runs?
The trail runs in summer are ideal preparation for the winter. This is because I am actually first and foremost a ski tourer and my target race for the season takes place in winter. I do most of my summer training here in Zermatt on the beautiful trails and not necessarily on the competition routes as there are a lot of other stunning alternatives. Nevertheless, I believe I have a certain home advantage at the Zermatt races.
Your name not only pops up in trail runs but also in ski touring events where it is right at the top of the ranking list. You have already won the legendary Patrouille des Glaciers, for example! In your eyes, what are the 3 fundamental keys to success?
Plan your rest days, because only with adequate recovery will you improve.
Always give your body new stimuli and have the courage to leave your comfort zone.
And most importantly: enjoy what you do.
Trail runs are becoming increasingly popular and many runners are toying with the idea of rising to the challenge. What important tips do you have for the preparation and for the race?
Downhill running needs to be trained in just the same way as uphill running. Complete units where you run intensively downhill to get your muscles used to the load and improve your trail running technique at the same time.
You need to do training that focuses on changing your rhythm according to the terrain. Unlike road runs, for example, trail runs entail a constant change in rhythm due to the different terrain or various gradients. It is essential to do this training beforehand.
Only those who are rested at the start will get the maximum out of their performance. You therefore need to reduce your training workload before your competition.
In a race such as the Ultraks, nutrition not only plays an important role, but a downright crucial one. What does your nutrition plan for such a race look like?
It is important to consume drinks containing long-chain carbohydrates (e.g. Carbo Basic Plus) on a regular basis and not just when you get thirsty. I always aim to have enough supplies so that my blood sugar levels don't drop.
Do you have a secret tip you would be willing to share with us?
After a long hard training unit, bathe in a mountain stream or lake (but not for too long:) )

Foto: @ Sportograf.com
Many thanks to Martin Anthamatten for the exciting answers.
This may be of interest for you too