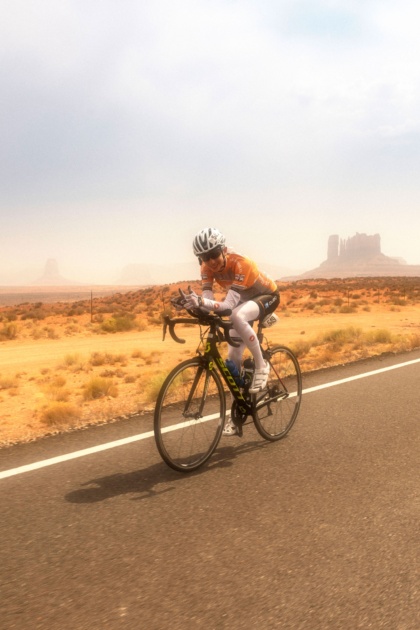 Interview with Nicole Reist
In less than 10 days, Nicole Reist cycled almost 5000 kilometres across America and won the traditional extreme bike race by a considerable margin. Only two men were faster!
4,939 km, 53,400 metres difference in altitude, 9 days, 23 hours and 57 minutes. The figures are almost hard to believe – simply remarkable. How did you find the competition?
I was totally aware for most of the race. Despite suffering a massive sleep deficit, there are only a few sections that I didn't consciously experience. The Race Across America feels like a fast-paced life – alternating between the highs and the lows. I had (almost) no problems and was able to pull out the stops when required. The last 200 km were extremely tough because I had to excel myself to ensure I could achieve my goal of less than 10 days.
Your average speed – including the breaks – was over 20 km/h! How do you prepare for such a performance? What does your training look like?
It takes years until the body and mind are ready for such performances. It all began with a 24-hour race. Then came races of 1,000 km followed by 2,200 km up to the legendary 5,000 km. At the RAAM 2016, I needed almost 1.5 days longer than this year. The meticulously planned series of breaks, which were reduced to a minimum, had a huge impact. I took 11 breaks, which added up to almost 9 hours of sleep.
Stamina is one thing; however, my training not only consists of basic training but also tough, long intervals.
Food and drink play a pivotal role during such an exertion. What do you eat and drink and at what intervals over the 10 days?
When it comes to drinks, I've been using the products from Sponser for years. I try to eat solid food wherever possible. I also use the gels from Sponser in addition to the PEAKPUNK bars. Otherwise, I eat everyday foods such as rice flake porridge and rice, which I eat from plastic bags while cycling.
Anyone who takes on and successfully overcomes such a challenge must have special skills. Can you tell us what goes through your mind during the race? How do you deal with the phases of weakness? And the monotony? And the lack of sleep?
I don't have any special skills apart from the fact that I perhaps possess almost superhuman self-discipline and am willing to give everything for my dreams and goals. This is the basis for achieving such goals because it involves a lot of hard work.
Not only the physical training, but also the mental training plays an essential role. As an athlete I am already aware before the race that phases of weakness will crop up – I am also well aware that these will pass. If I have a problem at a certain moment in time, it doesn't mean that I will still have it after 100 km. Being focussed is essential for me: I always focus on the positive things and those things I can influence and change. I can't influence the weather, for example, so I don't waste my energy getting annoyed about it.
My support crew (11 people in America) help to break the monotony. We talk, make jokes, listen to music, sing, etc. At some point fatigue becomes a constant companion. It's important that the body and mind are ready to deal with this and I am always aware that this state is foreseeable and can be remedied again at the finish.
Do you have a secret tip you would be willing to share with us?
The most important thing is to enjoy what you do. Only when you set a goal based on your own convictions will you also be prepared to give it your all. The desire to achieve a goal must come from me and not from outside. The body tells us more than we want to hear – the better I get at listening to my body, the better the cooperation. During training, I frequently leave my comfort zone to push my limit as far as possible. During the race, I can then cycle for much longer within my comfort zone without plunging my body into misery.
Foto: ZVG
Many thanks to Nicole Reist for the exciting answers.
This may be of interest for you too