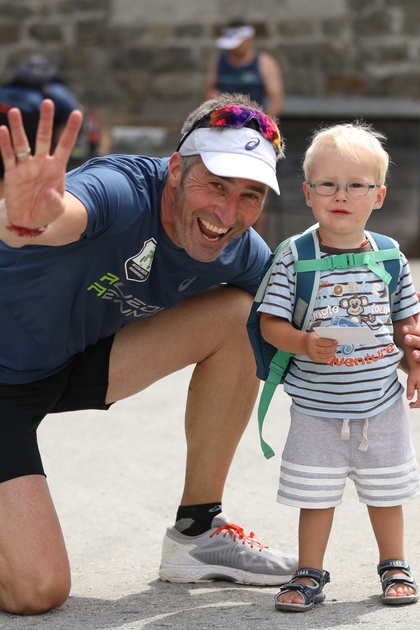 Interview with Ruedi Frehner
Earning money for those who are disadvantaged. This has always been the goal of Ruedi Frehner, Switzerland's top charity runner. This year, he has something special planned: In each canton, every day from the 8th of June to the 4th of July, he will run a half-marathon together with an ambassador and raise funds for cantonal institutions.
How did the idea for this year's charity event come to be?
I have been organising donation drives for almost 10 years. First, I did so as part of the 'Jeder Rappen zählt' ('Every Cent Counts') campaign. Starting in 2014, I put together my own projects. This means I constantly think about what a new project might look like. In doing so, it is not always just about 'more km', but I try to tell a story. If it is clear to me which institution I would like to campaign for, that helps me think of ideas regarding the route and course of events. The aim is always the same; I want to raise funds so that I can carry out very specific projects.
After an event in the canton of Grisons in 2018, it was clear to me there would now have to be a Swiss one. And that's how idea to create the next project came about: 'Charity-Tour-de-Suisse'.
What are the biggest challenges?
The biggest challenge with the 2020 project is the search for ambassadors. Since I will be running 27 half marathons – one after another – in 26 cantons in 27 days, I need people happy to give me a hand with my preparations. So far, I have managed to arrange some for 17 cantons. Now I need support for 10 more cantons. Do you want to help me out? If so, go ahead and get in touch with me. Perhaps, you are my next ambassador. I look forward to your call, at +41 (0)79 304 87 44.
What drives you to organise such a major project alongside your job as the director of a UBS branch office in Chur?
On the one hand, I very much like to move. On the other hand, I've been very fortunate in life. I was already a father at the age of 21 and a grandfather at the age of 46. I have been married for 35 years and am the father of three great, grown-up boys. It's not all smiles and sunshine for everyone. I want to support disadvantaged people with my donations. For this purpose, I can count on my great employer. UBS provides me with great starting conditions. For instance, I am able to have an 80% workload in a leadership position. I thus have more time to make progress with my social projects. Many thanks to my superiors and my family. Without these people, this would not be feasible.
How do you prepare for this athletic performance?
As I said, I like to move, and I work out almost every day. Whether running, biking, or cross-country skiing – I just want to move. I run between 2,500 and 3,000 km a year. That is my basis, so that I can accomplish my athletic plans without any problems. I am already looking forward to Monday, 8 June 2020. That is when I will be at the starting line for the first half-marathon in the canton of Grisons. I would be delighted to have many runners accompany me along this great stretch, from Flims to Chur. Go ahead and take a look at my homepage, at www.ruedirennt.ch/projekt2020. There, you will find a more detailed plan of the stretches. And one of the stretches is sure to be in your area. So see you soon.
What are your general training principles?
I try to incorporate a lot of variety into my training sessions. And I control it through the distance, pace, terrain, exertion ... and type of sport. It's like eating: you don't eat the same thing each day. And treat my training the same way: it's all about variation.
Do you have a secret tip to share with us?
I am 57 years young and feel how I need more recovery time. But since I want to be physically active more or less every day, I train in a more versatile manner than before. This means that I alternate between running, biking, Nordic walking, and cycling on a racing bike. In the winter, I do cross-country skiing as well, and I also regularly go on conventional skiing trips. This ensures a great training package and good preparation for the running season. However, elements from strength training and core stability are an absolute must, too.
Foto: ZVG
Many thanks to Ruedi Frehner for the interesting answers.
This may be of interest for you too