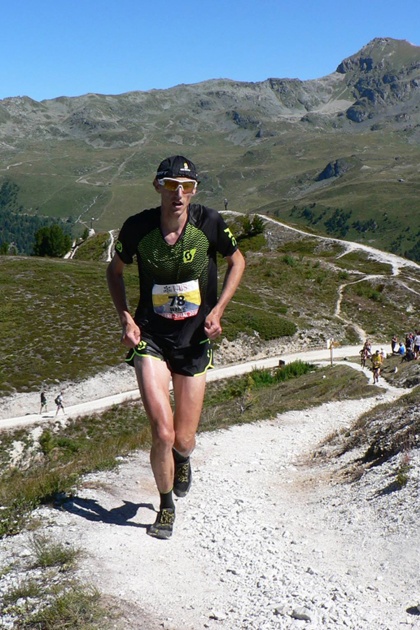 Interview with Stephan Wenk
Stephan Wenk is a multitalent: He wins mountain runs, duathlons, marathons and even cycling. Particularly successful was the Zurich-based osteopathy last year at mountain runs, so he was nominated in the selection of the most successful Swiss Ultra Trail Runner of the year.
You are very successful in various types of sports. What are the three most important training principles that lead to your success (which even hobby athletes could take to heart)?
For me, the most important thing is to have fun in what I do. I find it exhilarating to be in nature, to feel my body and push it to the limit.
I listen to my body and adapt a training unit, if necessary, so it is right for me at that point in time. Sometimes I have to concede that my body is too tired. Then I just make my training less hard or shorten it - it can also be the case that I add on an interval unit or mountain pass training. I also try to be rested when I do each training session, except where this is specifically the goal of the training.
It is important to me to have the necessary composure. I diligently prepare myself to achieve this - not only physically but also with regard to my equipment, nutrition, and the route profile. If possible, everything should be run through in training so no misgivings pop up during the competition itself.
Being an osteopath, runner, and your own trainer, you are able to wear different "hats" in some situations. As an osteopath, what three tips would you pass on to runners? And which three to running trainers?
Runners tend to suffer from a lot of overexertion injuries. I often see two factors responsible for this: An increase in the scope or intensity before a target event, which in turn jeopardises participation. Or a bad running technique, as I frequently focus on the intrinsic foot muscles and leg axis. Here, I see runners and trainers working together to continually optimise this with a running school program, among other things. Not only are the running school exercises important, but a trained eye can also give specific tips and corrections. During the rehabilitation of a torn Achilles tendon, I learned how important a good leg axis with the necessary gluteal muscles and torso stability (the deep abdominal muscles) is. I am convinced that this has repeatedly saved me from sustaining overexertion injuries and I have no longer needed to wear support shoes since then.
It was in 2016, after I completed my studies, that I experienced just how big an impact the mind has on performance. It is important that all aspects of life are as balanced as possible - and this means the spirit and soul, and thus everything else besides the sport.
It's important to listen to your body. This should not mean waiting until an injury stops you, but rather paying much more attention to the earlier and smaller signs the body sends you.
Dividing the competition up well is the key to success and one of your great strengths. How do you determine the tactics for your races? What tips do you have for runners?
There are different types of races. An international short-distance duathlon is basically divided up differently to a mountain marathon. Whereas in a duathlon the focus is on finding shelter in the first bike group (since slipstreaming is allowed), you must be able to keep up with the first group on the first run. In a mountain marathon, the focus is on maintaining your level of performance, even after 3 hours of running. Think about what counts in your target competition, and then divide up the race accordingly. During the Jungfrau Marathon, you can very quickly waste unnecessarily energy on the way to Lauterbrunnen, which will then be missing for the final ascent. At your next flat competition, set yourself the goal, for example, of running the last kilometre just as fast as the first.
We are now in the middle of winter and the running routes are covered with snow in many places. What are your 3 training tips (for hobby athletes) to get off to a good start in the new competition season this year?
First of all, it is important to cure all your physical ailments. I strongly recommend taking a break and giving your body some rest after your last competition in the autumn. The next phase should focus on building up your muscles in general and refining your technique. It is thus better to train on the mat at home than risk getting a cold or sustaining an injury in wet and cold weather. In winter, it is also possible to intersperse your endurance training with cross-country skiing or ski tours, for example, to avoid possible overexertion and train the other muscle groups. This can lay the foundation stone for a successful season.
Foto: ZVG
Many thanks to Stephan Wenk for the interesting answers. You can find more information on Stephan Wenk here: www.stephanwenk.blogspot.ch
This may be of interest for you too