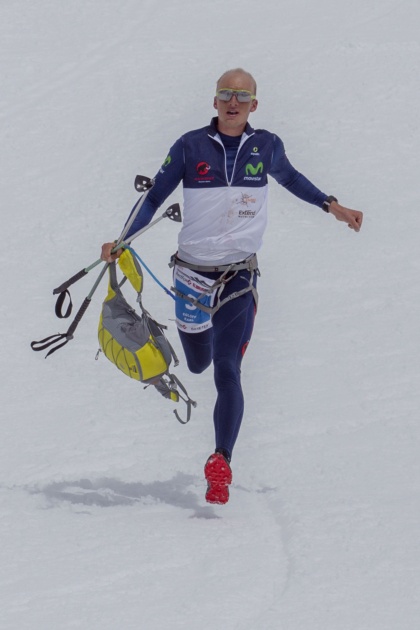 Interview with Karl Egloff
Karl Egloff, the son of a Swiss and Ecuadorian, is breaking one record after the other. For a long time, nothing hinted at this career. The mountain guide, who lives in Quito, rode as a professional mountain biker in races for 8 years before he discovered his talent for speed climbing at the age of 30.
Your successes and performances are impressive. What is the driving force behind your actions?
The freedom to do what I like most. I grew up with mountain climbing and have an accordingly strong affinity with the mountains: my father, who worked as a mountain guide, took me with him on all the various tours at a very early age and gave me access to this unique world. During the tours, however, and out of respect for the guests, he prevented me from going running after reaching each of the daily stages because the guests would not have understood. At some point I then reached the age in which I could decide for myself and was free.
In retrospect, I'm glad that I learned traditional mountain climbing and can now race in the mountains with the utmost respect.
You are on the go in extreme terrain and always at your limit. A false step can have fatal consequences. How do you deal with the great risks and dangers?
Speed climbing takes place on the commercial routes. The challenges are realistic and the dangers relatively low. In order to minimise the residual risk, I plan everything down to the last detail and precisely calculate what I do. What's more, every mountain that I climb with speed I climb first at leisure.
What Ueli Steck did is something quite different. I don't find vertical walls alluring. I have a wife and child at home and am aware of my responsibility.
How do you divide your ascents? Do you have a special tactic, or an ideal intensity? What about food and drink?
Each time I have a project in mind, I analyse the requirements. I decide when I should tackle the record according to the distance, uphill and downhill metres difference in altitude, temperature, and terrain. Due to the seasons, for example, there can be huge differences in temperature which I cannot get accustomed to because we don't have them in Ecuador.
I check my intensity using a heart rate monitor and run according to a previously contrived route map. Food and drink is also very important because your calorie consumption at higher altitudes is extremely high and the stomach is very sensitive. This needs to be addressed in the training preparation. The general rule is that once you get above a certain height, you should ingest a lot of sugar and have something in your mouth every 20 minutes. This is practically only possible with power foods such as power gels and power bars, which weigh little and provide plenty of energy.
To get myself used to the special situation, I usually never take fluids with me when training. In the days immediately before the attempt to set a record, I try to store as much water as possible in my body. I was thus able, for example, to make the 60-km Aconcagua ascent (11 hours, 52 minutes) with 1.5 litres of water. I carry this fluid in a backpack along with my power food, cap, gloves, down jacket, and micro crampons.
What does your everyday training for these extreme exertions look like?
I train 6 times a week, which amounts to around 20 hours. Here I climb 5000-7000 metres difference in altitude a week, stand on a 5000-metre mountain once a week and also run in the snow once a week. The exertions vary depending on the project and planning. I basically need to work on my fast climbing, running speed, as well as the changes in rhythm. A respective unit looks like the following: 10-15 min warm up, 5x 100 metres difference in altitude at full speed, 10-15 min wind down. Another important unit is continuous training at a specific heart rate. The aim is to feel extremely comfortable at this intensity.
In addition to training and work – I spend 4 days a week in the office where I organise trekking and mountain tours for aktivferien.com, a Swiss company – I make sure I eat a balanced diet and get 8 ½ hours of sleep.
What is your training philosophy? What general tips can you give amateur athletes to help them along?
I love what I do. Having fun is my philosophy. I feel I am missing something if I don't train. However, you won't find this joy overnight. It is a process.
My tip is that you should try to get out in the fresh air as much as possible in order to spend time in nature and take energy home with you.
When will we see you at the starting line for a race in Switzerland?
That is a good question. As much as I find the races in my second home appealing, I am focussing heavily on my big project, the "Seven Summits". In order to successfully master this, I need to spend a lot of time in high altitudes. I am thereby specialising more and more in training my body in a completely different way than what would be required for a race such as the Jungfrau Marathon.
Can you tell us what the running scene in Ecuador is like?
As in Europe, running here in Ecuador is booming. We have various events such as road runs, mountain runs, track competitions, or trail runs, of course. The trail running scene is growing enormously. Every weekend there are 1 to 2 races with 300 to 2000 participants. However, there is virtually no prize money, which is why you won't find any foreigners taking part and the best Ecuadorians are competing in Europe.
Foto: ZVG
Many thanks to Karl Egloff for the exciting answers. You can find more information on Karl and his projects here.
This may be of interest for you too