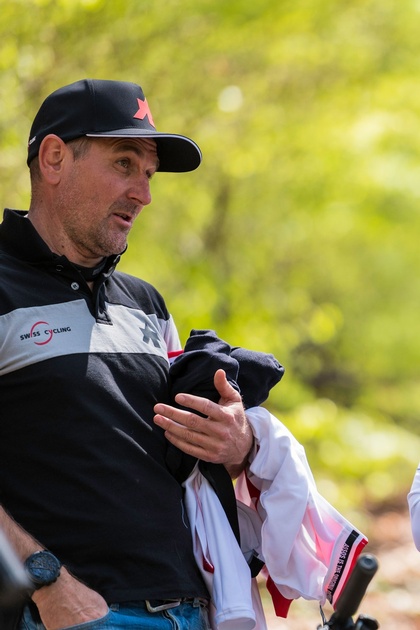 Interview with Edi Telser
Foto: Swiss Cycling
The Swiss women's national cycling team returned to Switzerland from the Olympic Games in Japan with four medals. The mastermind behind this historic success is the South Tyrolean Edi Telser, who has been coaching the women since 2013.
How did you find the Olympic Games with the 4 medals? Can you give us an insight into how you were feeling?
I didn't really realise the extent of our success in Japan. The road cycling and MTB competition venues were more than an hour's drive from each other. Due to the daily commute, we hardly had any time left between the training and competitions. The tension was high, but I just kept my head down and worked. It was only when I was on the plane – the girls gave me the return flight in business as a gift – and could really relax for the first time that I became aware of what we had achieved in the last few days. Then I felt great inner joy. The best thing was seeing all the athletes happy because everyone had won a medal. Normally, the disappointed ones need the most attention. In this case, there were only happy faces. That was an incredibly beautiful feeling for me as the coach.
What do you feel were the most important components for this success?
In my opinion, there were three crucial points: Firstly, we were nigh on optimally prepared. The athletes felt that they had done everything correctly during preparation. Secondly, we were able to adapt to the challenging, changing conditions within a very short time. Thirdly, the whole package on site was perfect: the athletes, staff and equipment were excellent – everything simply fit together.
What 3 tips can you give amateur cyclists so that 2022 will be a success?
Do what you enjoy and makes you happy.
Check that your equipment and clothing function properly. And if in doubt, treat yourself to something new – that gives you additional motivation.
Find a good training group if you don't already have one. It's more fun together.
Winter is coming. An unpopular time for many cyclists. What are your 3 key tips for winter training?
The break beforehand is just as important as the winter training itself. Treat yourself to some time off. It won't hurt if it lasts a little longer. Only when you have recovered will you really feel the urge to start training again.
Use this opportunity to improve your pedalling technique and power transfer by doing specific cadence exercises.
Look after your health. And if you should still come down with an infection, make sure you fully recuperate. If you start training too soon, you run the risk of prolonging the disease and losing a great deal of time.
Is there an insider tip you like using and would be willing to share with us?
It's not a secret, but I would advise everyone to attach the necessary importance to recovery. It should be a fixed part of your training plan.
We thank Edi Telser for the exciting answers.
This may be of interest for you too