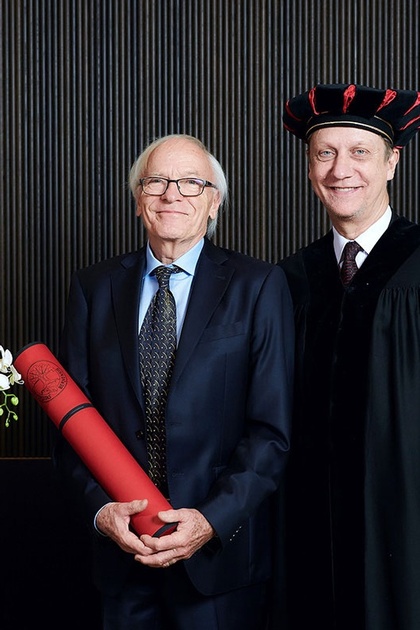 Interview with Heinz Schild
A few weeks ago, Heinz Schild was awarded an honorary doctorate by the University of Bern. The visionary pioneer of running motion, who founded the Grand Prix of Bern and Jungfrau Marathon, among others, was honoured for his decades of commitment to the Swiss running sport.
What does this award mean to you? Can you give us insights into your thoughts and emotions?
I was delighted with this honour. Never in my wildest dreams did I expect such a gift. The award from the University of Bern is undoubtedly exceptional and rewards visions. It is also of value to the entire running scene in Switzerland as a social appreciation of the endurance sport. And I share this honour with my family who have always supported me. However, my award should also be shared with my Grand Prix and Jungfrau Marathon successors, who after me have brought these major events to fruition.
Your evaluations and statistics are well known far beyond our national borders. Looking back, which figures and developments are for you the most interesting or perhaps the most surprising?
Surprising: Within just four decades, the running scene Switzerland has evolved in a way that could not have been imagined in the early 1980s. The famous Murten-Freiburg memorial run was the measure of all things. In 1979, there were 6507 classified runners in Freiburg - a Swiss record. Only the Zurich New Year's Eve Run, founded in 1977, and the 100-km run from Biel could just about keep up. No other running event had more than 2000 finishers. However, there was an awakening in running scene. The Escalade in Geneva started modestly in 1978 with 699 classified runners. The Greifensee Run followed in 1980 (1400 registered) and the Grand Prix of Bern in 1982 (2881 finishers). And there were the pioneers: among the ultras, the Bieler 100-km run (since 1959, 16 finishers) and in the trail running scene, the Sierre-Zinal (1974, 422 finishers). Two events, which are still among the top 20 today, round off this colourful palette: the Lake Hallwil Run (since 1975) and the Corrida Bulloise (since 1976).
These figures demonstrate the enormous growth of the Swiss running scene:
Interesting: What every runner takes for granted today – correct classification and time keeping – was a big challenge for the organisers right up to the 1980s. In the land of watches, while the most important watch manufacturers played on the grand piano at the Olympic Games and World Championships, they were unable to time mass arrivals. The know-how was missing. And so many a race director blanched when a correct ranking list could still not be printed 48 hours after the event. Thus, at the 45th Murten Run in 1977, there were also: «5051 classified runners, plus 252 non-classified due to technical failure» states Yves Jeannotat in his book «Murten-Freiburg». Two years later, even 1142 remained without a position and time. The first Greifensee Run suffered a total breakdown: «problems with the ranking lists». Only the top 10 runners could be recorded. And at the première of the first Grand Prix of Bern, the race director aged a good ten years: despite the latest technology: the barcode system introduced across Switzerland for the first time (adopted from The New York City Marathon), it could not be established with certainty whether all these barcode strips had been affixed to the right starting numbers...
You have been monitoring the running scene intensely for many years. In which direction do you think it will (need to) develop over the next few years?
The running scene has absolutely, positively changed. Thanks also to women. There is more joy, more fun, and a more relaxed attitude at the runs, and for the men, «more colour» is obviously infectious. Many organisers also want to offer their guests (!) a festival, an experience. The level of organisation in Switzerland is generally high. Conclusion: Things are developing in the right direction.
Sports is also always about performance. I want to compare myself; I would like to improve. Running literature, printed and digital training instructions, running courses, running holidays, and running clubs have had a (broad) impact. The running scene has become a mass sports factor. Nevertheless, this development also needs to be accompanied by an improved, broader performance peak.
You have also successfully applied your knowledge to training issues and, for example, led Markus Ryffel to silver at the Olympic Games in 1984. What, in your eyes, are the three keys that generally lead to success in sport?
Consistent, targeted, versatile training. In addition to focusing mainly on your endurance, also keep training your leg, abdominal and back muscles as well as flexibility
Get enough sleep, «recovery is also training», cites Markus Ryffel
Keep on motivating yourself: I want it, I can do it, and I look forward to training. Running means life, which means freedom and the privilege to enjoy nature at any time of the year – also in wind and all kinds of weather (!).
Do you have a secret tip you would be willing to share with us?
There are hardly any real training secrets anymore. There are, however, general tips. Training efficiently also means using the work commute as training now and again if possible (on foot or by bike), and thus making the most of your time. As a former competitive athlete, I loved taking warm or hot showers after training and competitions. This is fundamentally wrong: cold showers or briefly cooling down in a stream, river or lake, at least for the legs, can work wonders and accelerates the regeneration - making you (almost) feel like a new person.
Foto: ZVG
Many thanks to Heinz Schild for the interesting answers.
This may be of interest for you too