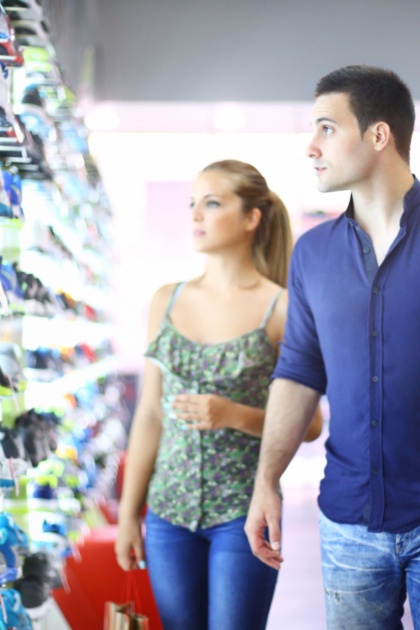 The right choice of running shoes
While running is the most natural form of human movement, in our modern society it is also a form of movement that many are no longer accustomed to. Choosing a good and suitable running shoe is therefore important because it forms the direct connection between a person and the ground.
Finding the shoe that is right for you is not at all easy because the selection is huge and there is no such thing as one best shoe that fits all. The ideal running shoe depends on the terrain in which you run, your running style, physical performance capability, as well as your individual foot shape. Here's how to choose your running shoe:
Barefoot shoes: Barefoot shoes enable the foot to move as naturally as it would when barefoot running and therefore offer barely more than a protective shell and a non-slip sole. This means little or no cushioning, no support, and no footbed! As a result: the feet have to do the work themselves, which activates and strengthens the foot muscles. While barefoot shoes certainly offer a useful strengthening alternative, they should only be used in small doses and for the sake of variety. Runners with foot problems and weak foot muscles need to approach the special strain with caution at the start.
Lightweight shoes: With a flexible, well sectioned and usually relatively soft sole, an ultra-lightweight stretch upper material for a perfect fit and a trendy design: these comfortable and lightweight "feel-good shoes" are currently the most popular type of running shoes. Despite the lightweight construction and reduced cushioning and supportive properties, this category is increasingly aimed at the online and mass market, which harbours risks if exclusively used for running training. This is because not everyone who buys such a shoe can actually run in it due to the lack of supportive properties. Owing to their type of construction, such models tend to be "fair-weather shoes" and are quickly overtaxed in wet and demanding conditions as well as on challenging surfaces.
Neutral training shoes: Neutral and functional training shoes (all-round shoes) are equipped with good heel and sometimes forefoot cushioning too, they have a sturdy upper material and only a few stabilisation elements. They are a good compromise between stability, cushioning, guidance, robustness, and flexibility. They allow a smooth rolling motion yet provide a good grip and are not too bulky. The «all-rounder» is intended for runners with normal feet and for those who only want to use one pair of running shoes.
Shoes with pronation control: Shoes with pronation control (also called stability shoes) are suitable for either heavier runners or those with over pronation, whereby their feet roll heavily inwards when they land. Thanks to the (sometimes massive) pronation supports, they offer maximum motion control and are therefore less flexible in the midfoot than lighter-built shoes. Stability shoes are usually built on a nearly straight last (mould) and thus only tend to have a weak waist on the inner side of the shoe.
Trail shoes: In the meantime, there are all different kinds of trail shoes available ranging from light and fast variants to well-cushioned rugged designs to sturdy off-trail shoes that can even be worn on gravel in high mountains and are water-resistant or even waterproof. The main differences between trail shoes and normal training shoes are the structure of the midsole, a heavily profiled outsole, and a robust upper material. To reduce the risk of an ankle sprain, they require as much direct contact with the ground as possible and less cushioning.
Competition shoes: When it comes to competition shoes, the onus is on weight and everything else is slimmed down. They are extremely light, but offer hardly any cushioning, stability, and guidance. They have direct contact with the ground and are suitable for well-trained runners who don't have any foot problems, who frequently compete in competitions and have a good running technique. Competition shoe models are only conditionally recommended for heavier runners and those with problematic feet. Due to their lightweight construction and the usually higher stress they are subjected to, the lifespan of competition shoes is limited (around 300-600 km).
Framework for buying running shoes
Tips for choosing the right shoe
Define the area of use: What do you need new running shoes for? For road training, trail running on root trails, only in sunny weather or also in the rain? Do you want a lightweight competition model or preferably a sturdy all-rounder? If you go running often and on varied routes, it is worthwhile to have several pairs of running shoes that you can alternate between.
Advice: Even though you can buy running shoes online, it is best if you buy them in a specialist shop. Because there you will (hopefully) receive competent advice. They will enquire about your frequency of training, running distance, preferred terrain, level of performance and any upcoming competitive goals. Take your old running shoes with you to the consultation because the sole and wear provide important information on your running style. Your individual constitution (weight) also plays a role in the choice of shoe.
Determine your foot type: Do you have narrow or wide feet, and are they normal, low, flat, splayed or arched? The specialist will use a foot mirror to quickly and competently determine your foot type. Inform the seller about any anatomical peculiarities (for example, heel spur, hallux valgus, hammer toe, etc.). A test run in front of the shop or at best on the treadmill can also provide important information. The expert will detect which running style you have and whether you land on the heel, midfoot, or forefoot. And whether you have a normal pronation or roll too heavily inwards (over pronation) or land too much on the outside edge of the shoe (supination). The expert will use all this information to select potentially suitable models.
Choose the right size: The accuracy of official sizes cannot be guaranteed. Put on suitable training socks and try on the recommended shoes. When standing, you should still have a gap of 1 cm at the end of the toes.
Try them out: It's best if you try the shoes out in front of the shop and run like you normally do. Pay attention to how they feel. The running shoe must be comfortable. Even when the running shoe technology is highly sophisticated: if you don't feel comfortable in them, you won't get any joy out of them.
Foto:iStock.com
This may be of interest for you too