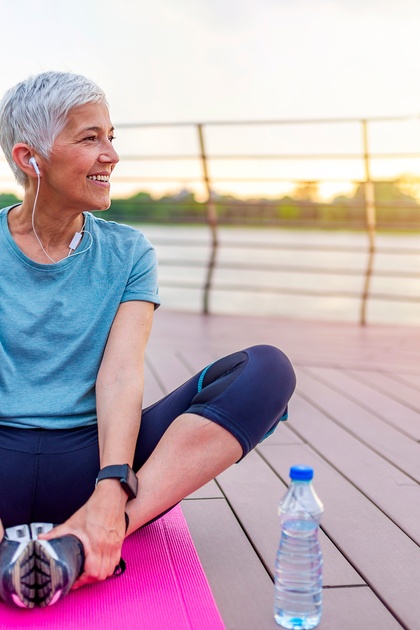 How To Adapt Athletic Training As Your Body Ages
Foto: iStock/dragana991
Aging is inevitable, but it doesn't mean you have to sacrifice strength or fitness. Although you lose muscle mass, cardiovascular fitness declines, and metabolism slows down, there are numerous ways to reduce this and the other effects that take their toll.
As an athlete, staying in peak condition is imperative. However, as you age, there are a few changes you need to make to your training regime. Take a look at what endurance athletes need to focus on in the 30-40, 40-50, 50-60, 60-70 and 70+ age groups.
How Does the Body Change as We Age?
30-40 Years
Our muscles and organs comprise of lean tissue. This is usually the first thing to degenerate after turning 30. While lean tissue decreases, body fat does the reverse. Our joints tend to become stiffer, and men start to produce less testosterone.
40-50 Years
After 40, it's easier to put on weight as our metabolism slows down. Our bodies have different metabolic rates, which is why some people gain weight more easily. However, nobody is exempt from the inevitable slowdown of metabolism after 40.
50-60 Years
Many women experience menopause-related fluctuations in hormonal function. This can lead to uncomfortable changes, including a reduction in bone density. Men and women experience stiffer muscles and joints, and longer injury recovery times.
60-70 Years
Loss of bone density and thinning cartilage typically increase after the age of 60, and ligaments tend to become less elastic. Your body is more susceptible to injury as it's not as easily able to absorb impact. Tendons and ligaments are prone to tearing, and recovery periods become longer.
70+ Years
After 70, your bones become brittle and less dense, and the spine, hips, thighs, femurs, and wrists become weaker. Changes in vertebrae occur and thinning of cartilage accelerates, as does the weakening of ligaments. Your body fat percentage typically doubles what it was in your 20s. After an injury, recovery periods are extensive.
What Areas and Exercises to Focus On
30-40 Years
Focus on preventing the loss of muscle mass. This delays unpleasant effects of aging, such as stiffness, tendonitis, insomnia, and heart problems. After 30, your body needs consistent training to avoid atrophy. To maintain peak endurance levels, at least one hour workout a day that includes weight training is advisable. But you need at least one rest day a week too.
40-50 Years
Due to a loss of mobility in the joints, the likelihood of injury increases. It's vital to maintain a healthy balance to avoid straining one area. Aerobic exercise maintains heart health, while muscle training retains muscle mass. If you had an intense weight-lifting session one day, do low-impact cardio the next.
50-60 Years
At 50, form is everything. At this stage, a lifetime of exercising may give rise to repetitive strain injuries. Problem areas vary in athletes. Common ones include shoulders, knees, hips, and elbows. Stick to lighter weights and low-impact exercises.
60-70 Years
Between 60 and 70, you need to focus on strengthening muscles to support your skeletal system. Resistance training is a gentle option that builds muscle and improves strength without putting too much impact on bones and tendons. Common problem areas are the hips, knees, and spine. Building the muscles around these will help to keep you active and strong.
70+ Years
As you are more susceptible to injury, exercises that rely on gravitational resistance are your best option. Sit-ups, lunges, and arm lifts are all good options, as are Pilates, yoga, swimming or aqua aerobics. lightweight training is also suggested, as are brisk walks. Maintaining a strong core helps to support your spine, while strengthening your hips, legs, and knees aids balance. Greater strength and balance lowers the risk of a fall that could put you in a wheelchair or in need of a mobility aid.
What Exercises to Avoid
30-40 Years
During your 30's, your body is resilient to damage and recovers relatively quickly. However, be mindful about repetitive exercises. Doing 3 consecutive days of upper body weight training in your 20's is no issue. But after 30, balance is key to training safely.
40-50 Years
After 40, repetitive exercise becomes more dangerous. Activities like crunches, squats, and deadlifts were previously useful for toning muscle and building strength. After 40, they're likely to cause problems in the spine and knees. Endurance also starts to take a knock as our bodies use oxygen less effectively over time. Don't over-exert yourself by running too far or too fast, or push yourself too hard in your workouts.
50-60 Years
Heavy weights, intense cardio, and bodyweight exercises involving excessive extension of the shoulders or legs are a no-go. They put too much strain on individual muscle groups and tendons. There's a higher risk of injury that may lead to a loss of mobility or chronic pain.
60-70 Years
Any exercises that are repetitive and involve excessive extensions or heavy weights need to be avoided. High-impact exercises are also a bad idea, as they put too much strain on the bones, ligaments, and tendons, and can cause a potentially life-changing injury.
70+ Years
As your body is at its most vulnerable after 70, you need to avoid any exercises that put a strain on your muscular-skeletal system. Weights, bench or leg presses, running, and squats can all do more damage than good.
How Rest and Recovery Periods Change
30-40 Years
Rest and recovery become more important. Assuming you want to retain muscle mass, rest is essential. Your muscles grow during recovery, not training. Between 30 and 40, avoid more than 2 weight-based workouts without a rest day in between.
40-50 Years
The golden rule is that more doesn't equal better. Your body needs more recovery time. Having a 48-hour rest after training maximizes the benefits and reduces risk of injury and/or fatigue.
50-60 Years
Your muscles need longer periods of rest, which is why maintaining a varied workout regime is important. Don't focus on one muscle group or engage in high-impact cardio. Give each muscle group a minimum of 48 hours to recover and take 2 days of complete rest weekly.
60-70 Years
An average of 150 minutes of moderate exercise a week is recommended for this age group, with plenty of rest and recovery time in between. Your body takes longer to recover, and nutrition is especially important to help your muscles repair after each session.
70+ Years
You'll need to give your body plenty of recovery time and good nutrition after the age of 70. However, instead of exercising for longer periods, you can exercise for shorter periods more often. Limit the time you spend sitting or lying down and remain as active as possible, without putting your body under too much strain.
Health Concerns That Require Monitoring
30-40 Years
Due to the natural slowing of your metabolism, weight related conditions become more common. Many people under 30 have insulin resistance issues, but are unaware of it. After 30, their metabolism slows, and insulin resistance becomes diabetes. Managing your weight and reducing processed sugar and carbohydrate intake is essential.
40-50 Years
The most important ailments to watch out for are cardiovascular disease and cancer. The weakening of muscle tissue affects your heart functioning, while cumulative exposure to carcinogens increases cancer risks. Exercise and nutrition help prevent these, but scheduling regular checkups can catch issues early.
50-60 Years
Hypertension, high cholesterol, arthritis, cancer, and diabetes become more prevalent. Regular checkups are vital for early detection and prevention. Any unusual pain, fatigue, heart palpitations, or other symptoms need addressing fast.
60-70 Years
You need to keep an eye on your cognitive decline as it may indicate a more serious issue such as Alzheimer's or dementia. Your heart health is another one to watch, as are any respiratory issues such as shortness of breath. Osteoarthritis or osteoporosis is also a concern from the age of 60 upwards.
70+ Years
As your body fat percentage increases at this age, you'll become more susceptible to diabetes, hypertension, high cholesterol and cardiovascular disease. Regular health screening is advisable, and you must take note of any changes in your body.
This may be of interest for you too