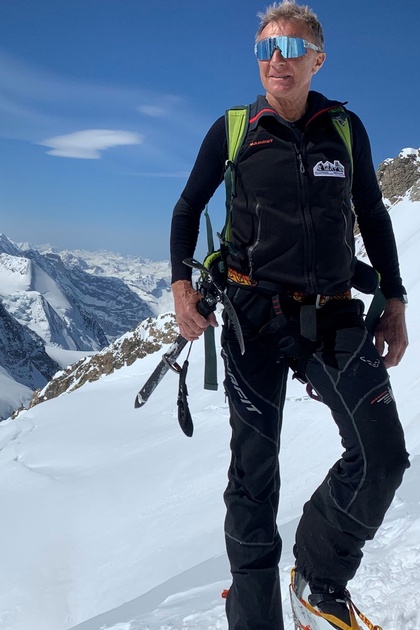 Interview with Fritz Häni
In the 1980s, Fritz Häni was one of the strongest Swiss "Waffenläufer", a long-distance runner in military combat uniform with rifle and backpack. Today, he trains Martina Strähl and primed her for the Olympic Marathon in Tokyo with his keen intuition.
How would you describe your training philosophy?
My philosophy is to work according to your strong, intuitive feelings and maximise the potential. For this, I need to know and understand the athlete well. And I believe joy and motivation are just as important as the result.
In your opinion, what are the fundamental key factors that lead to success?
Motivation and the joy of doing what you do.
A clear, realistic goal with the possibility to surpass yourself.
A training volume adapted to the load capacity that can be used as the basis for further progress over several years.
As a coach, what are the three most common mistakes that you encounter with your own or other athletes?
There is too much training and too little recovery. They should avoid running unnecessary kilometres and pay more attention to their recovery instead.
Instead of being flexible, they stubbornly follow a training plan. A good division of quality and endurance as well as targeted training are necessary in order to achieve great success or progress. If you blindly follow a plan, however, you are not listening to your body which can lead to unnecessary injuries.
The warning signs are ignored. Generally speaking, forcing something achieves nothing! If you have serious pain, you should definitely stop training or do alternative forms of training.
For a few weeks now, "normal" races have again been taking place for amateur athletes. What are your most important competition tips?
Set a realistic goal and surpass yourself instead of failing to achieve an ambitious goal.
Be defensive at the start and get motivated every time you overtake someone during the second half.
Look forward to the race!
Do you have an insider tip you would be willing to share with us?
After extremely intensive units, deliberately reward yourself with a wellness day, a fine meal, or a day skiing in winter. This conscious "letting go" works wonders for the body, mind, and soul.
Many thanks to Fritz Häni for the exciting answers.
This may be of interest for you too